Learning 2014
Deakin promises to educate learners for the jobs and skills of the future through courses enhanced for highly personal, engaging and relevant learning experiences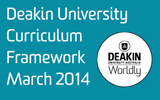 Deakin University Curriculum Framework - March 2014
PDF
930 KB
low ink
959 KB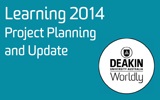 PDF
Staff Only
More opportunities for staff capacity building (in addition to opportunities already offered by Library, Deakin Learning Futures, faculty and other teams) through:
Learning@Deakin: A portal for teaching and learning providing easy access to information and connection for staff and students and the public
External experts offering hands-on assistance in re-imagining assessment
Digital capability: a small team of staff and students assisting teaching staff to create and use digital technologies for learning (in the CloudMobile, a mobile digital studio, and at various sites on campus)
In course enhancement:
Faculty-led processes to advance course enhancement—ensuring courses are redesigned and enhanced to enable employable graduates through personal, relevant and engaging experiences on campus and in the cloud
A course guide and greater emphasis on course progress in DeakinSync, building on digital badging to warrant achievement of learning outcomes.
Streamlined course structures, common units, electives and unit sequences, more university-wide ways of assuring graduates achieve the Graduate Learning Outcomes, and identifying those courses which are best suited to attracting and sustaining cloud enrolments.
In enrolment modes:
Online handbook: clear and consistent course and unit information, intuitive campus codes; contact hours described as classes and seminars
Deakin learning centres: an agreed approach to students and staff access
Refreshed marketing materials that highlight high-speed connectivity, DeakinSync, CloudDeakin, as well as campuses, learning centres and industry sites
Ensuring enrolling students engage with the Standards in computing, connectivity and student capability
In CloudDeakin:
A process for assuring that all units have a presence in CloudDeakin which includes easy access to learning outcomes, assessment and feedback; teaching staff and peers; learning resources and experiences
A consistent set of channels and processes for (1) reporting and resolving issues; (2) ensuring integrity of grades data (removing the requirement for the manual transference of grades to Callista) and using the Grades application; (3) management of class and marking groups through integration with STAR
Contemporary peer assessment tools
A plan to integrate CloudDeakin within DeakinSync
Assurance that video resources in Deakin Air are accessible and copyright compliant
Improved reliability of existing lecture capture facilities
In its strategic goal to build the evidence base of learning, Deakin will have:
eVALUate: a refreshed practice related to how we gather, report and use student feedback to improve units and teaching in a positive way
Centre for Research in Assessment and Digital Learning (CRADLE) that builds Deakin's reputation for research in assessment for digital learning evidence; attracts grants, partnerships, postgraduate students; and partners with Deakin teaching staff to enable research associated with teaching innovations
Completed OLT-funded grants that build Deakin's profile and research base in assuring graduate capabilities, employability, and in digital portfolios
Further information on the Learning 2014 projects is available to staff in the Learning 2014 Wiki.
Page custodian: Deakin Learning Futures Last updated: