Getting to the Geelong Waterfront campus
Geelong Waterfront Campus is located in the CBD of Geelong. There are heaps of transport options to this campus (which means you can seriously think about leaving your car at home).
Regional train
The Geelong Train station is located a short 400 metres away from campus. V/Line trains operate throughout the day on the Geelong line to Melbourne. Train services to Warrnambool also depart from the Geelong Train Station.
Coach
V/Line coaches run from many regional centres, including the Great Ocean Road and Ballarat, to the Geelong city and Geelong station.
The free Geelong cube bus service
Deakin operate a free bus service which has a stop at the Barwon Valley Activity Centre (Belmont Common). The Cube bus is frequent, free and direct to the Waterfront and Waurn Ponds Campus.
see Quick Links for further info and timetable.
Public bus and coach services
The centrally located Geelong Waterfront Campus is well serviced by suburban bus lines which operate across Geelong and outer regions. The main bus interchange is located in Moorabool St- 700 metres away from Campus however there are a number of bus stops close by depending on your route.Please visit Public Transport Victoria in the Quick Links for more information about bus routes in your area.

V/Line coaches run from many regional centres, including the Great Ocean Road and Ballarat, to the Geelong city and Geelong station.
Myki
Myki is your way to pay to travel on public transport in Victoria.
Did you know that you can buy Myki on campus?
There is a myki hand held device in the DUSA Bookshop on the Waurn Ponds, Waterfront and Burwood campuses which will allow you to:
view your myki details
purchase an anonymous myki
top up your myki (money and pass), and
renew a myki pass.
Cycle
Bike riding to the Waterfront Campus is an option. Live too far out of the City? Have you thought about parking your car and bike riding in from our Park and Ride car park in Belmont? The distance is only 3.2 kms which would take you 15 minutes to ride. Upon arrival, you can park in in the secure Bike Cage or outside the main entrance (lots of bike racks along Gheringhap St) if you like. We also have change rooms with showers to freshen up. You can always catch the Geelong Cube to your car if your plans change during the day.
Student Concessions are available through Deakin Central.
Car
A limited amount of parking is available on campus. Deakin University car parks are classified as Permit Parking Zones and a valid Deakin University parking permit is required at specified times. There is limited paid on street car parking spaces as well as commercial car parks located close the campus such as:
Westfield Shopping Centre (Brougham St)
Civic Centre Car Park (Gheringhap St)
Why not utilise the Barwon Valley Activity Centre Park and Ride car park as a meeting point for carpooling with your fellow Deakin buddies? It's a short trip to the Geelong Waterfront Campus and if you need to leave unexpectedly, you can use the Geelong Cube bus to get to your car. Carpooling made convenient!
Deakin students love carpooling.
Carpooling
Deakin University provides a free online carpool matching service to help you find someone to carpool with to the Geelong Waterfront Campus. Carpooling is a great way to save money by sharing the cost of a parking permit and petrol, while making new friends.
See Quick Links for further info.
Interest free loans for transport expenses
Did you know that Student Financial Support provides interest free loans to students who are either in financial need or are progressing satisfactorily with their studies for transportation expenses?
Visit Student Financial Support for more information and read the conditions for an application under 'General student loans'.
DUSA also have a Transport Assistance service which can be found under the Quick Links.
Contact us
Please direct any Getting to Deakin enquiries to
Deakin Transport
or
Quick links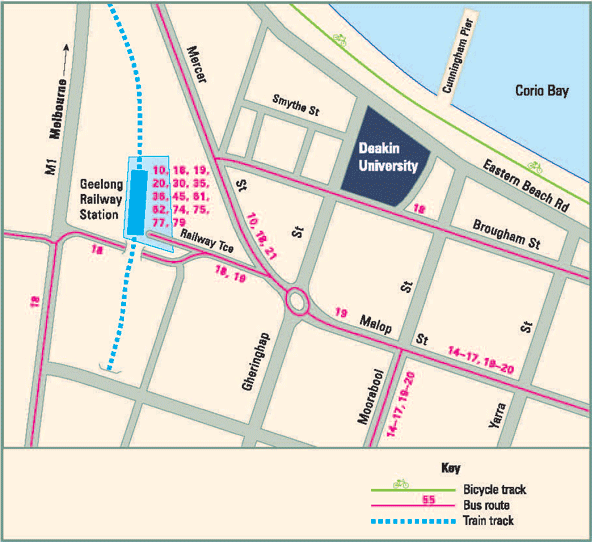 (JPG, 113.7 KB)
Page custodian: Campus Services Last updated: