Health and wellbeing
Staying active
There is substantial evidence that sitting increases the risk of ill health. However it is not as simple as "not sitting".
The evidence is that it is sitting for prolonged periods that leads to problems. Sitting interspersed with regular bouts of activity, not necessarily exercise, can offset the risks associated with sitting. Equally substituting sitting in the one place with standing in the one place is not an effective response. Sitting all day and then having vigorous exercise before or after work probably does not help either. The Heart Foundation recommends activity every half hour. This could be as simple as standing up and moving around a bit during phone calls.
For more information please read ideas for increasing your activity levels.
Now in its 16th year, Diabetes Australia – National Walk to Work Day is on Friday 14 November and is a day which encourages staff to build regular walking into their daily routines. Regular walking reduces the risk of stroke, heart disease and type 2 diabetes. Diabetes Australia is the official charity partner of the event. Over 1.7 million Australians are currently living with diabetes and a further 280 Ausralians develop diabetes every day. Walking is one of the easiest forms of exercise to build into your busy daily life and can make a big difference to your long-term health.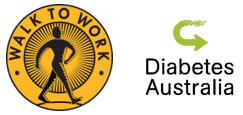 It's easy to get involved, simply:
Register for FREE as an individual or team at: www.walk.com.au
Set a goal for the distance you will walk
Start fundraising using your unique EverydayHero page and share your progress with family, friends and colleagues
Download the promotional poster (PDF, 634.7 KB) .
Celebrate by hosting a healthy breakfast in your area on Friday 14 November 2014!
More information on the events, hints for a healthy breakfast, and sample walking goals, are available at www.walk.com.au
Top ten walking tips, it's easy:
Walk some of the way or if you can, walk all the way to work
Get off the bus, train, or tram a few stops earlier
Leave the car a few blocks away
Set your alarm 30 minutes earlier to fit in a walk to work
Organise a walk at lunchtime
Walk all or part of the way to meetings rather than driving or catching taxis
Schedule a "walking meeting" (a Walking Workshop) for 30 minutes instead of a meeting room. Walk and talk and you'll get double the benefit.
Organise a daily walk with colleagues to get you into a routine
Wherever possible, use the stairs and ensure you get up from your desk at least once an hour and walk around the office.
Got a message for a colleague? Instead of emailing, walk and deliver it in person.
Deakin Sports and Recreation
Staff - Get fit for summer!
Work together, train together.
Enrol today to be revitalised, reenergised and refreshed.
Visit the Deakin and Sport and Recreation website for further details.
Work break reminder
Taking regular rest breaks is an effective way of reducing the risk of overuse injuries associated with computer work. A rest break gives your body the opportunity to relax. It can be even better if you use the opportunity for some light exercise such as a walk around the office. Where continual keying is involved a break of 10 minutes in every hour is recommended.
The Remind Me program (EXE, 430.5 KB) can be downloaded onto your computer and set up to remind you to take breaks.
Save the program under D:\UserData. Open the folder and either:
Right click on the exe file and select [Pin to the Task Bar]. It now can be started whenever you want.
Right click on the exe file and select [Create Shortcut]. Then the shortcut can be dragged to the [start button], then [all programs], then the [start up] folder. Alternatively you can cut and paste into the [start up] folder. The next time you start Windows, the program will run automatically.
---
Smoking
As of 10 March 2014 Deakin became a smoke free University.
How can you help?
You can provide guidance and support for staff who are smokers by encouraging them to initially look at the Deakin Smoke-Free website. Ask them to familiarise themselves with the Smoking and Tobacco policy and with the support services available. In particular:
Many smokers make seven to eight attempts before they are successful in overcoming their addiction. For many people, quitting smoking is the hardest thing they will ever do. The workplace should be a place that supports this challenging process.
You can be supportive by:
Showing concern for them no matter what you think about their smoking
Not preaching, nagging or using guilt trips
Keeping in regular contact with them to offer support and encouragement
Being sensitive to the needs of the smoker who is quitting
Letting them know you believe they can do it and that they have your support whether they are able to quit now or later
You should encourage your staff to develop strategies to manage their smoking even if they believe they cannot quit. Research shows that quitting abruptly is more effective than cutting down unless you are cutting down as part of a structured program where someone other than you decides when you can smoke. you should also be willing to discuss support options, for example, arranging work schedules to allow attendance at QUIT programs.
As a manager, you are expected to deal with absences from work due to smoking in the same way you would deal with other unauthorised or excessive absences during paid work time.
You can seek advice from your HR Client Partner on how to deal with specific performance or behavioural issues (such as unexplained or unauthorised absences, poor work performance, irritability etc.). If there are personal safety or welfare issues involved advice can be sought from the Health, Wellbeing and Safety team.
You are responsible for:
Ensuring that areas under your control are smoke-free
Communicating the policy in a relevant way to staff, students, contractors and visitors
Encouraging and supporting staff who wish to stop smoking
Discussing with Health Wellbeing and Safety about placing 'No Smoking' signs or of particular problem areas
Advising as appropriate in inductions new staff, students, contractors and visitors that the University is smoke free. If there is a persistent issue please contact Health Wellbeing and Safety
For many people, quitting smoking is the hardest thing they will ever do. The workplace can be a place that supports this challenging process.
You can be supportive of your collegues who smoke by:
Showing concern for them no matter what you think about their smoking
Not preaching, nagging or using guilt trips
Keeping in regular contact with them to offer support and encouragement
Letting them know you believe they can do it and that they have your support whether they are able to quit now or later
All staff are responsible for:
Cooperating in the implementation of the Smoking and Tobacco policy and the Code of Conduct.
Supporting colleagues who wish to stop smoking.
Advising people, as appropriate, that the University is smoke free. If there is a persistent issue then please discuss with your manager or supervisor.
---
Mental health
One in three Australians will experience depression and/or anxiety at some point in their lifetime. This means almost 20% of us may experience depression, anxiety or a substance use disorder during any year.
Mental health conditions affect different people in different ways: they can be mild, transient and easily managed or they can be serious, debilitating and life-threatening. Most staff with a mental health condition can and will try to actively remain at work.
Others however, will need time off. In these cases, the University can play a key role in ensuring that returning to the workplace is a smooth process for the individual, the team and the organisation. If a staff member experiencing a mental health condition returns to work in an appropriate and meaningful role, this may decrease the likelihood of relapse and increase the likelihood of the University retaining the skills and experience of that individual.
Similar approaches can be used to assist staff members stay at work where practical and with their doctor's support.
In addition, with most of us spending more than 50% of our adult waking lives at work, the workplace can heavily influence the mental health of staff and thus our community as a whole.
What is Deakin doing to promote a psychologically healthy workplace?
Recognising and promoting good mental health is essential to creating a safe and healthy workplace. Organisations, managers and workers all have a responsibility to create a safe work environment that is supportive of workers experiencing mental illness. A psychologically healthy workplace:
Promotes a culture that is inclusive and emphasises abilities not limitations
Aims to eliminate discrimination and stigma and adopts respectful language
Understands it's duty of care and OHS responsibilities
Has policies and procedures that consider mental health in the workplace
Offers programs and resources to educate and inform staff about mental health, it's impacts and strategies to address and support them
Promotes collaborative decision making and/or problem solving amongst all levels of staffing
Ensures everyone is treated with consideration and respect
Employers and managers have an obligation to manage and minimise health and safety risks in the workplace. This extends to identifying workplace practices, actions and incidents that can cause or contribute to worker's mental health. For example, excessive workloads; lack of role and task clarity; lack of flexibility; conflict.
Mental health is a state of wellbeing in which the individual:
is able to realise his or her own abilities
can cope with the normal stresses of life
can work productively and fruitfully, and,
is able to make a contribution to his or her community.
A mental illness is a health problem that significantly affects how a person feels, thinks, behaves, and interacts with other people. It is diagnosed according to standardised criteria and can be successfully managed with treatment.
A mental health problem also interferes with how a person thinks, feels, and behaves, but to a lesser extent than a mental illness. Mental health problems are less severe than mental illnesses, but may develop into a mental illness if they are not effectively dealt with. (Dept of Health and Ageing).
Mental health facts: prevalence, treatment, experience
One in five Australians experience a mental illness at some stage in their lives, with many experiencing more than one mental illness at one time.
Mental Illness is treatable. Most people fully recover from a mental illness, especially if they receive help early. Some people experience significant disability as a result of an ongoing mental illness, whilst many others live full and productive lives.
Many people experiencing mental illness are in stable and successful employment. Mental illness says nothing about a person's capabilities or future. While some people may require support from their workplace when unwell, many will not require any additional support.
Mental illness is not synonymous with violence. Only a small number of people with a mental illness are violent and this tends to coincide with having an untreated psychotic episode.
Types of mental illnesses
You have a critical role in working with your staff who may be experiencing mental health issues. Managing mental health in the workplace boils down to supportive and effective management practices.
Contact details for external organisations that specialise in providing advice and assistance to people experiencing a mental health issue, and/or their carer's and managers
Work related stress
Workplace stress, if not properly managed, is associated with poor health and wellbeing, lower productivity and increased sickness absence. Find out more about work related stress.
---
Inappropriate workplace behaviours, including workplace bullying
Inappropriate workplace behaviours can range from interpersonal conflict to harassment and bullying. Some behaviours such as bullying and sexual harassment are unlawful. Dealing with such behaviours at the earliest opportunity will minimise any damage caused by such behaviours and give the best chance of resolving the issues.
---
Page custodian: Human Resources Division Last updated: