Global Corporate Challenge
What is the Global Corporate Challenge?
The Global Corporate Challenge (GCC) is a health and wellbeing initiative.
It translates the physical steps taken over 14 weeks (100 days) by participants' walking, cycling and exercising, into a virtual tour around the globe. The program aims to:
increase the amount of daily exercise
improve physical and mental health
enhance productivity
build a stronger culture of resilience for staff
create the opportunity to get involved in some 'healthy competition'
Teams of seven receive a 3D accelerometer (www.gccpulse.com) that uses motion sensing technology to accurately track their daily activity.
NEW in 2015! Participants can now use their own Fitbit or Jawbone device to sync with their GCC account if they choose.
For further information visit the Global Corporate Challenge website.
Deakin University and the GCC
The 2015 challenge at Deakin University will begin on 27 May. Registrations will open up in mid-March.
All Fixed term or continuing staff can participate in the challenge. You will need the financial approval of your Faculty, Area or Division. Be on the lookout for the Network and Staff news articles for details of the 2015 challenge, which usually starts around May.
In 2014, Deakin had 27 teams and 189 participants. View the final progress report.
The End of Event Presentation (PDF, 5.0 MB) was presented by the GCC on Friday 10 October. View where your team came in the final leader board (XLSX, 15.2 KB) .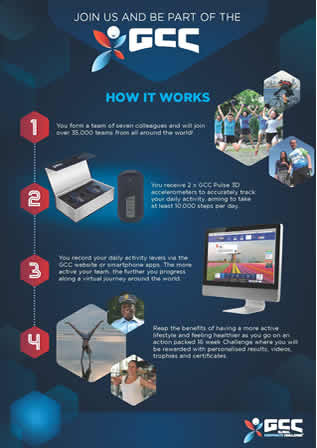 Health benefits
After completing the 2014 GCC, Deakin participants have reported the following benefits:
90% rated their overall health as good, very good or excellent
94% were more conscious of opportunities in their day to add more steps
75% had a better understanding of what it takes to lead a healthier lifestyle
79% would now describe their relationships within their team/work group as good or excellent
60% reported a decrease in their stress levels at either home or work
Download helpful tips (328 KB) on increasing your activity levels throughout the GCC.
For detailed benefits visit the Global Corporate Challenge website.
Page custodian: Human Resources Division Last updated: