Course overview
In the Deakin IMMERSe program students will study the third year disciplines of medicine, surgery, women's health, children's health, musculoskeletal medicine and mental health through structured teaching rotations provided by experienced Deakin University staff. This teaching will be enhanced by their opportunity to experience authentic medicine as it happens in the rural environment, expertly guided by an experienced rural doctor. They will live and study in that doctor's rural community for the entire 42 weeks of third year.
The students' time will be spent with the supervising rural doctor, visiting specialists, allied health workers, hospital and practice nursing staff and other members of the community. The emphasis is on experiential learning within the rich cultural context of a generalist rural practice.
IMMERSe students will be able to follow the patient along their pathway through the health service in all its complexity. They will have the valuable opportunity to be active participants in the long term care of patients, to observe the impact of continuity or lack of continuity of care and to understand the impact of medical illness on their patients, as well as the patient's family, workplace and community.
The student will spend a minimum of two consulting sessions (three hour blocks) in parallel consulting with their supervisor each week, two to four sessions with visiting medical specialists and allied health workers, practice nurses and practice staff.
Using electronic media, the students will link with other students for weekly tutorials, case presentations and online discussion. Lectures are received online. Clinical skills teaching sessions, using simulators will be provided within your town or neighbouring town in small groups. Students will have the equivalent of one private study day per week.
The student is also expected to accompany the supervisor on daily hospital ward rounds and to take advantage of the learning opportunities in the accident and emergency presentations at the clinic and hospital when the supervising doctor is on call.
The IMMERSe program will include regular visits to Ballarat, Geelong or Warrnambool for advanced clinical skills training and specialist teaching.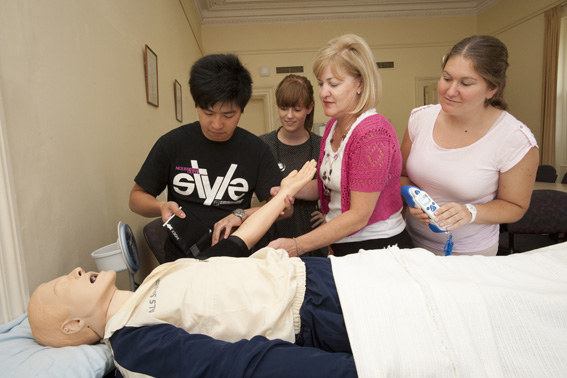 Page custodian: Faculty of Health Last updated: