Further course information
Prevocational studies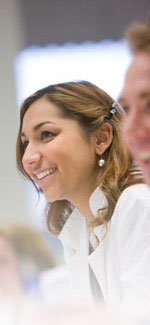 Prevocational studies
Optometry encompasses far more than just testing eyes. It involves a complex interplay of inter-professional communication; management of self, others and potentially a business; and the applied understanding of principles of ethics, the law, public health, professional and commercial practices. Deakin Optometry integrates all of these elements into the curriculum from first year, right through to graduation. Throughout your prevocational studies you will study elements from the Vision Science, Health, Life and Physical Sciences, Optometric Business and Accounting.
Vocational based learning
Vocational studies
Case-based optometry modules
Deakin Optometry extends the concept of problem-based learning (PBL) to deliver case-based learning modules as the predominant teaching method in the second and third year of the course. Case-based learning (CBL) requires students to work in small groups to solve 'real life' optometry problems creatively as each case contains complexities within the clinical, psycho-social, ethical and commercial domains. In attempting to 'resolve' the case with the guidance of a tutor, students will combine private study, supporting sessions delivered through various media including live and online lectures, workshops and practical classes, and group study.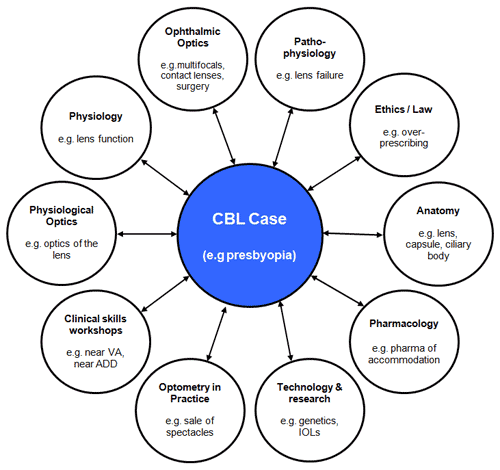 Team-based learning
In addition to CBL you will engage in team-based learning (TBL) activities throughout the second and third year of the course. TBL is a cutting-edge group learning technique that is now being integrated into medical curricula around the world. It encourages you to be more accountable for your own learning, enhances problem-solving skills, promotes team work and creates a high level of student engagement. TBL typically consists of three phases. In Phase 1 you will be exposed to intended learning outcomes and undertake pre-class preparation by participating in CBL modules, lectures and workshops in addition to group and private study. In Phase 2, you will complete a multiple choice test to demonstrate readiness to apply the knowledge acquired in Phase 1, and participate in class discussions which clarify concepts, consolidate learning and accelerate critical thinking and problem-solving skills. In Phase 3, you will work in teams to solve problems that require the application of the materials assessed in Phase 2.

Industry based learning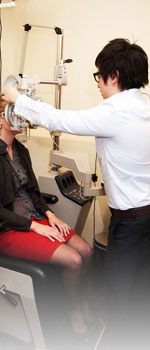 Industry-based learning
During the final six months of the Bachelor of Vision Science/Master of Optometry, students will undertake training as a 'student resident' in one or more of a variety of clinical optometric settings. These clinical rotations will enable you to consolidate your knowledge and skills in supportive environments, under the supervision of qualified optometrists. Clinical rotations may include clinical experiences in a regional setting, and, where possible, students from rural and regional backgrounds will be placed near or within their community of origin.
Accreditation
The curriculum of Deakin's Bachelor of Vision Science/Master of Optometry is aligned with the competencies defined by the Optometrists Association of Australia (OAA) and the Optometry Council of Australia and New Zealand (OCANZ), the accrediting body for optometry courses in Australia and New Zealand. Deakin's Optometry program is 'accredited with conditions' until July 31st 2016 by OCANZ. Thereafter Deakin Optometry will be subject to the same 8-year accreditation cycle applicable to all Australasian Optometry Schools.
Note: This course is currently accredited (with conditions) as at the date of publishing.
Page custodian: Faculty of Health Last updated: