Introduction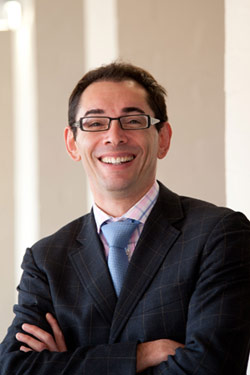 Professor Harrison S. Weisinger
Foundation Director
Welcome to Optometry!
Delivered by the School of Medicine in the Faculty of Health, Deakin University's Bachelor of Vision Science/Master of Optometry course is the Nation's first accelerated, combined-degree optometry program.
This course makes use of Deakin's trimester system to ensure that the Bachelor of Vision Science/Master of Optometry can be completed in a minimum of three-and-a-third academic years, by high school-leavers, or less by those who are granted credit for prior learning. The course operates out of the purpose-built, state-of-the-art Regional and Community Health Hub (REACH) building, adjacent to the Medical School on our Waurn Ponds Campus in Geelong.
Deakin's Bachelor of Vision Science/Master of Optometry has been granted accreditation, with conditions, to a scheduled renewal date of July 31 2016, by the Optometry Council of Australia and New Zealand. On completion, graduates are automatically able to register to practise through the Australian Health Practitioners Registration Authority. Once registered, Deakin Optometry graduates will be eligible to practice under the Medicare and PBS Systems and can work anywhere in Australia and New Zealand.
Note: This course is currently accredited (with conditions) as at the date of publishing.
As you'll discover on this site, the Deakin Bachelor of Vision Science/Master of Optometry course is unique in several ways: The emphasis on problem- and team-based learning, an enormous, fully equipped clinical skills facility, partnerships with industry and a curriculum that delivers excellence across clinical, commercial and professional domains in optometry. Perhaps above all, however, Deakin Optometry graduates will have one considerable advantage over those from other institutions; time. The configuration of the course, through Deakin's trimester system, means that our students will save a minimum of one-and-two-thirds academic years in university, which translates to a significant degree of earning power, in addition to allowing 'breathing space' to consider options such as scientific research or further studies.
Whilst we have placed as much information as possible on this site, you will probably still have questions. So please feel free to contact us to request more information.
Page custodian: Faculty of Health Last updated: