Australian Future Fibres Research and Innovation Centre
The Australian Future Fibres Research and Innovation Centre (AFFRIC) is a $103 million initiative supported by the Australian and Victorian Governments.
AFFRIC is a collaboration between Deakin University and CSIRO Materials Science and Engineering.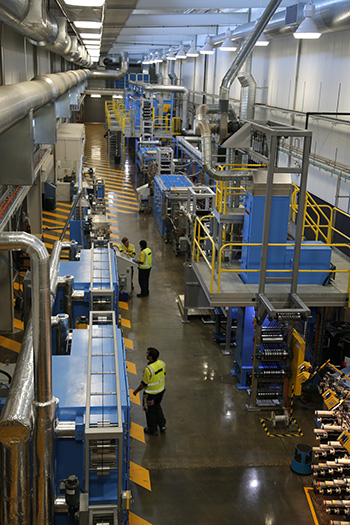 AFFRIC opened in 2013 with the relocation of CSIRO's fibre/textile research group to the Deakin Geelong Waurn Ponds Campus. The collaboration increases the research capacity of both organisations to service the fibre, textile, composite, automotive and aerospace industries and also assist in the translation of research into end-user applications.
AFFRIC's five major research programs are:
Carbon fibres and composites
We have the world's first dedicated, pilot-scale research plant capable of producing aerospace grade carbon fibre, together with a comprehensive fibre and composite characterisation facility. The facility offers a globally significant, university based, industrial scale carbon fibre research capability, which is unique in the world.
Functional fibrous materials
New functional fibrous materials are being developed with enhanced applications. Our work in this area includes medical textiles, super hydrophobic textiles, protective garments and gloves, directional moisture management in fabrics and fibre reinforced materials.
Green natural fibres
The green natural fibres program focuses on environmentally friendly ways of processing natural fibres, such as cotton, silk, bamboo and hemp. Our work covers fibre and textile processing, properties and applications.
Nanofibres
Nanofibres have a wide range of applications, including filtration, tissue engineering, energy generation and storage, reinforcement and sensors. AFFRIC researchers have developed novel techniques for making side-by-side nanofibres, nanofibre yarns and large-scale production of electrospun nanofibres and short nanofibres.
Polymers
The polymers research program aims to develop new polymer materials that will meet a diverse range of applications. Projects include: synthesis and characterization of new polymeric materials; advanced thermosets for high performance coatings, adhesives and composites; biodegradable polymers for biomedical applications; and green processing of natural polymers.
Deakin University
The researchers from Deakin's Institute for Frontier Materials (IFM) bring an array of international collaborations with leading fibre centres, including Advanced Fibre Science CoE (Shinshu University, Japan); College of Textiles, North Carolina State University (North Carolina USA); University of Dayton in surface coating (Ohio USA); Tufts University in silk biomaterials Institute of Textile & Clothing (Medford, Massachusetts USA); Hong Kong Polytechnic University (Hong Kong China).
Two new initiatives for Deakin include CATAS International Research Centre for Advanced Agricultural Materials to explore natural fibre functionalisation with the Chinese Academy of Tropical Agricultural and the Science and Sino-Australia Initiative for Automotive Materials and Technologies with Hefei University, China to develop 'green' Carbon Fibre-based auto materials.
CSIRO
CSIRO Materials Science and Engineering (CMSE) staff based at AFFRIC have world leading capability in the production and manipulation of fibres on the nano-scale for new high performance fabrics, sensors and instruments. CSIRO aims to attract the best experienced and early career scientists from around the world and has set up a number of programs to support this aim. CSIRO has an established collaboration of shared supervision of PhD students with the Institute for Frontier Materials. To learn more about CMSE, our capabilities, our research and our people visit CMSE.
---
Contact Us
David Pardoe
Senior Commercial Manager
david.pardoe@deakin.edu.au
+61 3 5227 3301
Australian Future Fibres Research and Innovation Centre
Geelong Technology Precinct
Geelong Waurn Ponds Campus
Deakin University
Address:
75 Pigdons Road, Waurn Ponds,
Victoria 3216 Australia
Postal address:
Deakin University Locked Bag 20000
Geelong, VIC 3220
Page custodian: Deakin Research Last updated: