Cameca LEAP 4000 HR Atom Probe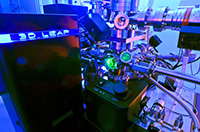 The LEAP 4000X HR is a high performance 3D atom probe microscope which provides nano-scale surface, bulk and interfacial materials analysis of simple and complex structures with atom by atom identification and accurate spatial positioning.
Acknowledge Us
When you are writing up your research, please remember to acknowledge the role of our facilities and expertise. Acknowledgments demonstrate that investments in equipment and people have led to important outcomes. Your publications, presentations, and posters are a vital part of the business case for ongoing funding of Deakin's Advanced Characterisation Facility.
Please add the following acknowledgement to any work published using data obtained using our facilities:
"The present work was carried out with the support of the Deakin Advanced Characterisation Facility."
Current Project Examples
Investigation into deformation modes and recrystallisation of Mg alloys that includes the role of rare-earth solute distributions on hardening and segregation of solutes to grain boundaries and dislocations
Effect of vanadium microalloying on the stability of mechanical properties of hot rolled bainitic strip steels
Chemistry of nano-scale precipitates in Al alloys and high-strength low-alloy steels
Features
Local Electrode Atom Probe (LEAP) microscope allows atomic resolution chemical and spatial analysis in three dimensions. The LEAP 4000 HR utilises a large-angle reflectron lens to provide high mass resolution in voltage mode with a large field of view and enables differentiation between all elements and their isotopes. The local electrode design allows analysis of microtip specimens as well as conventional needle-shaped samples.
Specifications
Typical capabilities of the instrument
Acquisition rates of 1 to 10 million ions per hour
Millions to tens of millions of atoms per specimen
Tomographic analysis volume in the range of 50 x 50 x 200 nm
Spatial resolution: ~ 0.1 - 0.5 nm
Mass resolution: ~ 1000 (FWHM)
Chemical sensitivity: ~ 10 ppm
Page custodian: Deakin Research Last updated: