Nuclear Magnetic Resonance Facility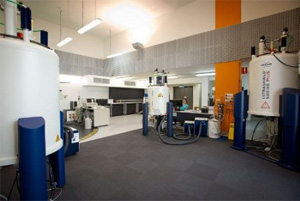 Our Nuclear Magnetic Resonance (NMR) facility at Deakin University's Waurn Ponds campus is equipped with state-of-the-art instrumentation for the detailed characterisation of molecules and materials. We have capabilities for high-resolution solution-state NMR, multinuclear solid-state NMR, ultra-fast magic angle spinning, pulsed field gradient experiments and even micro-imaging. Such a versatile range of equipment combined with the diverse expertise of our staff and our broad variety of collaborative partnerships make this NMR facility one-of-a-kind in Australia.
The links on this page provide more information about the facility, including examples of our research and more detailed descriptions of our equipment and capabilities. I hope you will find these pages useful and please do not hesitate to contact our staff if you have any questions about how our facility might benefit your own research.
Professor Maria Forsyth
Australian Laureate Fellow,
Institute for Frontier Materials, Deakin University
Page custodian: Deakin Research Last updated: