New 'Thinker' program deepens India ties
Research news
05 September 2016
An Indian 'Thinker in Residence' program is being launched in the humanities and social sciences.
One of India's most prominent historians is set to be Deakin's first "Indian Thinker in Residence."

Dr Srinath Raghavan, a Senior Fellow at the Centre for Policy Research, New Delhi, will spend a week at Deakin in October in the first stage of the program.
The initiative marks an important phase in expanding Deakin's connections with India into the humanities and social science sphere. Each year, a new Indian thinker will be recruited, with relationships maintained in the longer term through honorary advisory roles.
Professor David Lowe, Chair in Contemporary History in Deakin's School of Humanities and Social Sciences, established the program with Ms Ravneet Pawha (Executive Director, Deakin South Asia), with support from the Deputy Vice-Chancellor (Research) Professor Peter Hodgson.
"Dr Raghavan is an incredibly fine scholar," said Professor Lowe. "He is one of the best of his generation in India, and a 'future figure' of Indian history writing."
Dr Raghavan's research spans historical and contemporary aspects of India's engagement with the world. His books include "War and Peace in Modern India: A Strategic History of the Nehru Years;" "1971: A Global History of the Creation of Bangladesh;" and "India's War: The Making of Modern South Asia, 1939-45."
"I am privileged to be the first 'Indian Thinker in Residence' at Deakin," said Dr Raghavan, from his office in India.
"The initiative offers an excellent and unique platform on which to build deep and enduring research links between Australia and India in the humanities and social sciences.
"Given my own interests, I am excited at the prospect of working with a group of senior and younger scholars on the diplomatic and cultural history of Australia-India relations.
"I also look forward to interacting with colleagues in Deakin's Contemporary Histories Research Group and exchanging ideas on the challenges and promises of writing the history of the recent past."
A graduate and former teacher at Kings College, London, Dr Raghavan has edited and co-authored three other volumes on Indian foreign policy and contemporary history. He is a regular media commentator on international and strategic affairs and has been a member of the National Security Advisory Board to the Government of India.
Deakin's involvement with India began in 1996 when it became the first international university to establish an Indian office. It now has over 2,000 Indian students out of more than 9,000 international students.
Professor Lowe is the Head of Deakin's Contemporary Histories Research Group and has undertaken several research projects on India himself.
"The humanities and social sciences can add much to our understanding of the inter-connections between Australia and India, and the shared historical experiences that have shaped each of us," he said.
"The 'thinker program' is part of a suite of programs that the School is introducing. A PhD scholarship has been linked to the 'thinker' initiative, with the recipient to be jointly supervised by myself and Dr Raghavan.
"In November, the highly respected Indian historian and writer Ramachandra Guha will present a seminar for us on the challenges of researching Indian contemporary history."
During his October visit, Dr Raghavan will share his views on the current context of humanities and social sciences in India, while later in the month (Oct 24) he will participate via Skype in a Deakin conference on the history of Australian Diplomatic Representation in India). Peter Varghese, recently retired Secretary of the Department of Foreign Affairs and Trade and former Australian High Commissioner in India, will be a keynote speaker.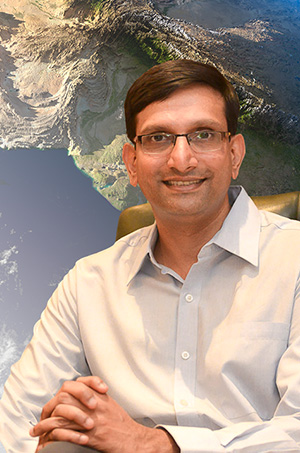 Key Fact
One of India's most prominent historians is set to be Deakin's first "Indian Thinker in Residence."
---