Optogenetics research impresses at 3MT finals at Deakin
Research news
21 September 2016
Epsy Shiny Edward has taken out the 2016 Deakin 3MT prize for her research on a ground-breaking approach to neuroscience.
The ability to investigate neurological conditions like epilepsy or Parkinson's disease by feeding light into the brain through a thin optical fibre might sound like science fiction, but in fact, this is already being achieved in the lab.
Discussing her research in a presentation called "Illuminating the brain," Ms Epsy Shiny Edward awed judges and audience alike at Deakin's 2016 Three-Minute Thesis competition. She was awarded both first prize and People's Choice award at the event.
Ms Katrina Hogan from Deakin Law School was awarded second prize, and Lisa Couacaud, from the School of Humanities and Social Sciences, received an honorary mention.
At the event, Deakin University Vice-Chancellor Professor Jane den Hollander said the 3MT competition was a fabulous concept that required researchers to engagingly summarise their research within a strict three-minute timeframe.
"Even if you have first rate research, you will have little chance of success if you can't make an impact," Professor den Hollander told the researchers.
"Consolidating your ideas and research in an engaging and convincing way is a critical skill."
The judges were Ms Elaine Carbines, CEO of G21, Professor Catherine Bennett, Head of the School of Health and Social Development, and Professor Chris Hickey, Chair of the Academic Board.
Deakin alumni and one of Australia's most respected journalists, Ms Emma Alberici, presenter of ABC's "Lateline," made the trip to the Waurn Ponds campus to MC the event.
Ms Edward said "It was an amazing feeling" to win the competition.
"It was quite a challenging task to prepare the presentation. Winning made me feel that I had communicated my work well," she said.
Ms Edward is a student within the School of Engineering, supervised by Professor Abbas Kouzani, and has collaborated closely with Deakin's IMPACT research centre and neuroscientists at the US research institute, the Mayo Clinic. She developed an interest in the medical applications of electronics and brain interfaces during her undergraduate degree in electronics and instrumentation.
"The brain is very complicated, which always fascinates me. The mysteries underlying its complex functionalities is still quite unknown and I love the challenge of exploring such as an interesting field," she said.
For her research, Ms Edward is developing a miniature device to explore the potential of illuminating neurons in the brain through gene therapy and light-based stimulation, as a means of investigating neurological conditions such as epilepsy.
Her research centres around the new field of optogenetics, which was hailed as the "Breakthrough of the Decade" by "Science" in 2010. First applied and developed in New York in the early 2000s, optogenetics is a biological technique that combines genetics and optics. It is based on the ability to use light to control cells, such as neurons, that have been genetically modified - exploiting the ability of certain algae cells to respond to light through light-sensitive channels.
In 2010, optogenetics was chosen as the "Method of the Year" across all fields of science and engineering by the interdisciplinary journal "Nature Methods." The journal praised the potential of using light to control the behaviour of cells as a precise way to control nerve activity in the brain in ways that could work faster than drugs and more precisely than electrical stimulation.
"This research could one day make a difference to the lives of millions of people around the world who suffer from seizures and other neurological conditions," Ms Edward said.
"Significant numbers of people do not benefit from available treatments. Optogenetics can be used to show when abnormal activity is occurring and help to return the brain to its normal state. One day, we could have brain pacemakers, like we have heart pacemakers today."
3MT runner-up
Katrina Hogan gave an impressive presentation on the need for greater transparency across the supply chain of Australian companies. She described work tragedies in Papua New Guinea and Bangladesh involving companies that were either subsidiaries of, suppliers of, or directly funded by Australian listed companies. However, these tragedies were not reported, and in many cases investors and consumers had no knowledge of them.
Ms Hogan's research has centred around building an evidence base to show that Australian companies are hiding ownership of offshore entities, which contravene labour and human rights standards.
She has conducted a comparative analysis of codes of ethics from Australia and the United States and her research posits the theory that transnational business activity would be more ethical if Australia mandated codes of conduct for publicly listed companies, gave them minimum content requirements and required disclosure when companies act inconsistent with their codes.
This would achieve greater transparency in the offshore operations of Australian companies and have a massive impact on the lives of workers in offshore supply chains. It would give investors and consumers the opportunity to punish or reward offshore conduct through their investment and purchasing decisions.
She is supervised by Professor Sandeep Gopalan, Dean of Deakin's Law School and Professor Jean Du Plessis.
Watch the 2016 3MT finalists:
Katrina Hogan - Deakin Law School, "Promoting ethical international business activity by leveraging corporate codes of ethics and continuous disclosure legislation in Australia."
Dakshina Chandra - Deakin Law School, "Next generation of legal services: creating a regulatory landscape for optimising futuristic legal technologies and increasing access to justice."
Lisa Couacaud - School of Humanities and Social Sciences, "The ideal America(n): constructing and deconstructing Dwight Eisenhower's presidency."
Achala Abeykoon - School of Communication and Creative Arts, "Mobile phones, (dis)empowerment and female headed household: Trincomalee, Sri Lanka."
Epsy Shiny Edward - School of Engineering, "Illuminating the brain."
Manyu Vittal - School of Life and Environmental Sciences, "Adjuvant behaviour on leaf surfaces."
Vanessa Brotto - School of Nursing, "Using audit with feedback knowledge translation interventions to promote medication error reporting in health care."
Elly Fletcher - School of Exercise and Nutrition Science, "Sedentary behaviour, diet and cardiometabolic health in adolescens.'
Noman Haleem - Institute of Frontier Materials, "A new view on textile yarns."
Keiran Pringle - Institute of Frontier Materials, "An investigation into short ultrafine fibre production in fluid systems."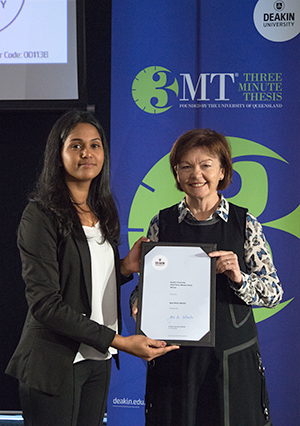 Key Fact
"Consolidating your ideas and research in an engaging and convincing way is a critical skill."
---