Peak body awards Deakin researchers and teachers
Research news
28 September 2016
Deakin researchers and educators have been honoured for their contributions to improving health in Australia at the annual CAPHIA awards.
The Council of Academic Public Health Institutions in Australia (CAPHIA) has recognised researchers from Deakin's Institute for Physical Activity and Nutrition (IPAN) and the University's Public Health Medicine Team for their excellence and innovation in the public health field.
The CAPHIA Awards showcase the critical role of Australian universities in conducting ground-breaking research into health.
Winners in this year's awards developed innovative ways to educate the next generation of public health professionals, doctors and other health care providers to promote health. They also worked with government and other partners to improve the way that health care is delivered.
The IPAN team behind the Melbourne Infant Feeding Activity and Nutrition Trial (InFANT) Program was awarded the CAPHIA annual award for Excellence and Innovation in Public Health Team Research for their work on the program, which supports parents to establish healthy eating and active play early in their children's lives.
"The children of parents who received the intervention had improved diets and watched less television," said CAPHIA president Prof Colleen Fisher.
"The InFANT program has been trialled and in turn embedded into a range of health services across Victoria."
Deakin's Public Health Medicine team received the award for Excellence and Innovation in Public Health Teaching, with Prof Fisher praising the team for "changing the way that doctors are trained in public health".
Assoc Prof of Public Health at Deakin's School of Medicine Colin Bell said the team had worked to build student feedback into ongoing improvements to the School's public health curriculum.

"Many solutions in public health have originated from doctors. We want our graduates to be the next generation of public health leaders, so achieving this award required engaging with students to hear their perspective," Assoc Prof Bell explained.
"Our students learn to be competent with patients and populations and they hear from practitioners so they have their finger on the pulse of public health practice."
CAPHIA is the peak body representing all major Australian tertiary education institutions teaching and researching public health and aims to improve the public's health by advancing public health education, research and service.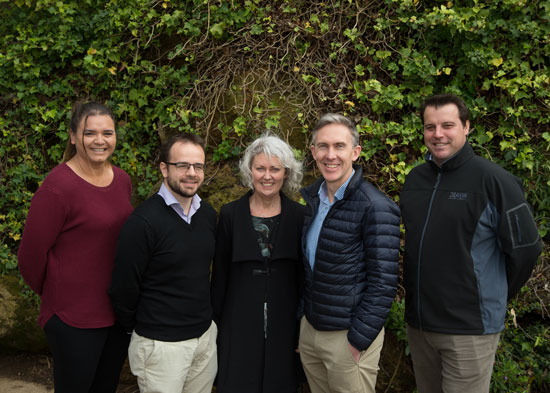 Key Fact
The award-winning Deakin University Public Health Medicine team.
---