Virtual technology: a game-changer in dementia care
Research news
16 May 2018
A partnership with Dementia Australia has led to the use of virtual reality and game engine technology to transform dementia care.
Sinister shadows. A carpet that looks like a seething column of bugs. Streams of nagging instructions. These are some of what users experience when they don EDIE, a virtual reality system developed by Deakin University for Dementia Australia.
Unpleasant though they may be, these EDIE experiences are transforming healthcare for people with dementia, by providing major insights to carers and family about what it's really like to live with dementia.
The team of researchers – who will be based within Deakin's new Applied Artificial Intelligence Institute (A2I2) – have been working with Dementia Australia (DA) for the past three years, developing products to build understanding and improve dementia care. They have played a major role in contributing to DA's reputation as an international leader in the use of cutting-edge technology to improve healthcare.
DA's showpiece, EDIE (Educational Dementia Immersive Experience), consists of an app and accompanying VR that convey the cognitive changes that may be experienced by a person with dementia through an immersive experience. These changes could include impaired memory, mood, planning or problem solving abilities.
EDIE also passively highlights how changes around the home can significantly improve quality of life. For instance, a person with dementia may have difficulty perceiving surfaces that contain repetitive patterns. These can appear to be moving or have insects walking across them, which can be extremely disorienting and frightening.
"EDIE has been a game-changer for us," said Dr Tanya Petrovich, DA's Business Development Manager.
"It is helping us to achieve our vision of improved care for the thousands of Australians with dementia. Users are making changes as a result of their experiences, particularly through improving furniture and design in homes and residential facilities and their own behaviour in interactions.
"We have received fabulous testimonials about how individuals are changing their workplace practice and doing more to advocate on behalf of their clients. Also, the support provided by the Deakin team far exceeded the product development phase. Their consideration to the ways customers can be assisted with ongoing support is a cornerstone of the product's success."
In Australia, an estimated 1.2 million people are involved in the care of people with dementia, and more than 425,416 people live with dementia. With an ageing population, this number is expected to increase to 536,164 by 2025 and almost 1,100,890 by 2056.
DA Vic division provides training to over 17,000 professional carers each year and has reached 2000 carers with EDIE in Victoria so far. EDIE will be rolled out around Australia over the next two years and has been purchased by CDS Boutique (Concept du Sablier), which specialises in therapeutic products and training in Canada.
One of Dementia Australia's biggest supporters is the Leader of the Opposition, the Hon Bill Shorten, who saw a demonstration of EDIE at a DA roundtable discussion last year and was so impressed he organised a demonstration in Canberra to the Shadow Cabinet and caucus in November.
Another DA/Deakin collaboration is seeing the peak body working with A2I2 and Deakin Motion.Lab to extend its "Virtual Forest" – a soothing virtual atmosphere, achieved through a large interactive screen, a simple and intuitive program, and gaming technology. The system is having psychological benefits for many patients with dementia living in aged care facilities and will be extended with new scenes, such as seascapes and snow scenes, by the Deakin team.
Tanya Petrovich relishes being a VR pioneer in healthcare. After beginning her career with a PhD in genetics, she discovered she enjoyed teaching more than research and has worked in education for over 30 years.
"Virtual Reality is an extremely powerful way to teach," she said. "I started on this VR journey after meeting a game developer at a conference, who told me that video games are really good teachers. He reminded me that kids don't need manuals to learn how to play a computer game. Their learning is intuitive.
"In two years we could well have an intelligent avatar with dementia that will even further improve our training. There are tremendous opportunities for technology to improve care for people around the world with conditions like dementia."
To experience EDIE, contact Dementia Australia, or call the National Dementia Helpline: 1800 100 500.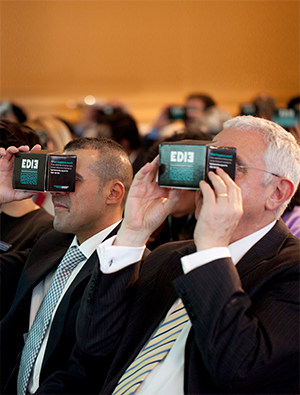 Key Fact
EDIE consists of an app and accompanying VR that convey the cognitive changes that may be experienced by a person with dementia.
---