Who has authority to speak for a river?
Research news
29 June 2017
A Deakin researcher is investigating the 'unstable relations' between Indigenous people and environmentalism in Australia.
A Research Fellow from the Alfred Deakin Institute for Citizenship and Globalisation, Dr Timothy Neale has asked "Who is able to speak for a river or any other natural resource?"
The unusual question follows recent controversies and policy innovations in Australia and Aotearoa New Zealand. For example, a landmark agreement this year between Maori group Whanganui iwi and the New Zealand Government recognises the Whanganui River ("Te Awa Tupua") as a legal person with two human advocates.
A human geographer and cultural anthropologist, Dr Neale argues that the question of who can or should speak for a river or any other natural resource is not simple in such contexts and can be highly contested.
These issues are raised in a chapter of the new book, "Unstable Relations: Indigenous people and environmentalism in contemporary Australia" that Dr Neale co-edited with Dr Eve Vincent (Macquarie University). The chapter re-examines the controversy that surrounded Queensland's "Wild Rivers Act" following its introduction in 2005.
The "Wild Rivers Act" was introduced in Queensland by then premier Peter Beatie to protect certain river systems. The Act was eventually repealed in mid-2014, but its legacy presents insights into the contemporary politics of indigeneity and environmentalism in Australia.
"The analysis of the controversy led me to pose the question: 'Who is able to speak for a river?'" Dr Neale said.
"There is little question that various political institutions speak for the interests of rivers constantly – through the implementation of planning laws, management plans, water leases, and so on – often in the name of the state or nation and its present and future citizens.
"Similarly, environmentalist NGOs also declare their right to speak about water for an electorate (their members).
"While environmentalists and settler governments alike try to speak for the river, it has become impossible to ignore Indigenous peoples' immanent right to articulate, and have an interest in, these same rivers."
Dr Neale said the complexity of such issues becomes apparent when other institutions, such as news media or government departments, seek to make a decision about which Indigenous authority can, or should, speak for a place or its waters.
"Should it be an individual elected by the residents of a community whose lives are materially bound up with the wellbeing of the river?" he asked.
"Alternatively, should it be an individual who inherits authority from their ancestors and totemic relations to place? Should it be an unelected individual entitled by their contributions to public debates and influential political networks, or should it be an elected national body selected by urban, rural and remote voters?
"The controversy over the Act highlights two important points for further consideration in Australia. First, there is an emerging preference for the traditional owner as the arbiter of Indigenous interests more generally, conflating the interests of the latter with those of the former.
"Second, widespread uncertainty about the relative standing and authority of different Indigenous actors allows other parties to pick and choose their preferred 'representative' voices. A lack of understanding of these matters amongst news media and governments – intentional or not – arguably undermines political debates in Australia."
Picture: The Mitchell River Delta. Picture Feral Art. Flicker, Creative Commons Licence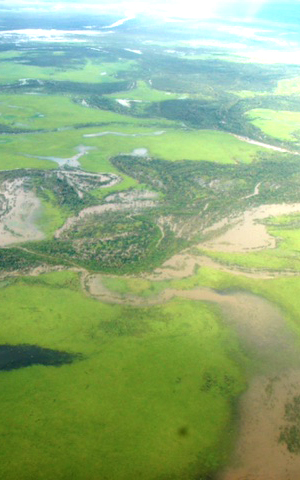 Key Fact
"Unstable Relations: Indigenous people and environmentalism in contemporary Australia" aims to analyse the contemporary history of 'green-black' (environmentalist-Indigenous) relations in Australia, attending to alliances, ambivalences and conflicts."
---