Geoff Wilson Medal
The Geoff Wilson medal is awarded annually to eminent scientists judged to have made an outstanding contribution to the Faculty in the international arena, in research, teaching or administration.
The medal is in honour of Professor Geoffrey Victor Herbert Wilson AM and honours a life-long contribution to Science and Education.
Professor Geoffrey Wilson, or Geoff, as he prefers to be known, was formerly a Vice-Chancellor of Deakin.
He was a pioneer in temperature modulation of magnetic materials and led the first successful detection of pulsed magnetic resonance through the observation of the nuclear radiations.
In recognition of his long and substantial career in education, Professor Wilson was made a Member of the Order of Australia.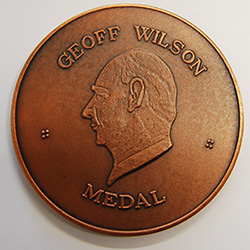 Highlights of his career include:
being made a Nuffield Fellow
a Queen Elizabeth II Fellow, and
at one time, Professor of Physics at university of New South Wales (UNSW)
He has made a major contribution to Science both nationally and internationally and at various times was Chair of The Federation of the Australian Scientific and Technological Society, Inaugural Chair of the Research Grants Committee of the ARC and President of the Australian Institute of Physics.
He served as Rector of the Australian Defence Forces Academy and Vice-Chancellor of The University of Central Queensland.
In the course of a distinguished research career at Monash University, UNSW, Oxford University and the Free University of Berlin, Professor Wilson carried out research on very low temperatures in the milliKelvin range and magnetic materials He published extensively in international journals and supervised many higher degree students.
Nominations
Nominations should be forwarded to:
Teresa Treffry
Administrative Officer - Research
Faculty of Science, Engineering and Built Environment
Phone: +61 3 5563 3535
Email: teresa.treffry@deakin.edu.au
The nomination must be no more than one page of single-spaced 12 pt font and outline the outstanding contribution that the nominee has made to the Faculty.
List of Recipients
2003
Professor Elo H Hansen
Department of Chemistry
Technical University of Denmark
Denmark
Professor Gary D Christian
Department of Chemistry
University of Washington
Seattle
United States of America
Professor Alan Townshend
Department of Chemistry
University of Hull
United Kingdom
Professor John J Jonas
McGill University
Department of Mining, Metals and Materials Engineering
Montreal
Canada
Professor John H Beynon
Department of Engineering Materials
University of Sheffield
United Kingdom
2004
Professor Yoshio Takei
Department of Marine Life Science
University of Tokyo
Japan
Professor Andrew Barry
School of Architecture , Civil and
Environmental Engineering
Swiss Federal Institute of Technology (EPFL)
Lausanne
Switzerland
2005
Professor Ian Edwards
Archaeology and Materials Research Unit (AMRU)
School of Ecology and Environment
Deakin University
Australia
Dr Philip Jones
University of Plymouth
United Kingdom
2006
Emeritus Professor John Duncan
University of Auckland
New Zealand
2007
Professor Michael Adams
RMIT University
Australia
2008-2010
(The medal was not awarded 2008 - 2010)
2011
Lt Col Roger David Lewis OBE
2012
Professor William Bevis Hutchinson
KIMAB Metals Institute
Stockholm, Sweden
2013
(The medal was not awarded in 2013)
Page custodian: Faculty of Science, Engineering & Built Environment Last updated: