Specialist centres
MAC Alliance
Research within this stream is coordinated through The Melbourne Attachment and Caregiving (MAC) Alliance, which is an Australian affiliate of the internationally renowned Mary Ainsworth Child-Parent Attachment Clinic. The MAC Alliance is founded on the Australian Temperament Project Generation 3 Study (see Lifecourse and Surveillance), funded by the National Health and Medical Research Council and Australian Research Council. The MAC Alliance has strong community based, clinical and educational programs, and offers the only accredited training in coding of attachment and caregiving behaviour for the Strange Situation Procedure in Australia.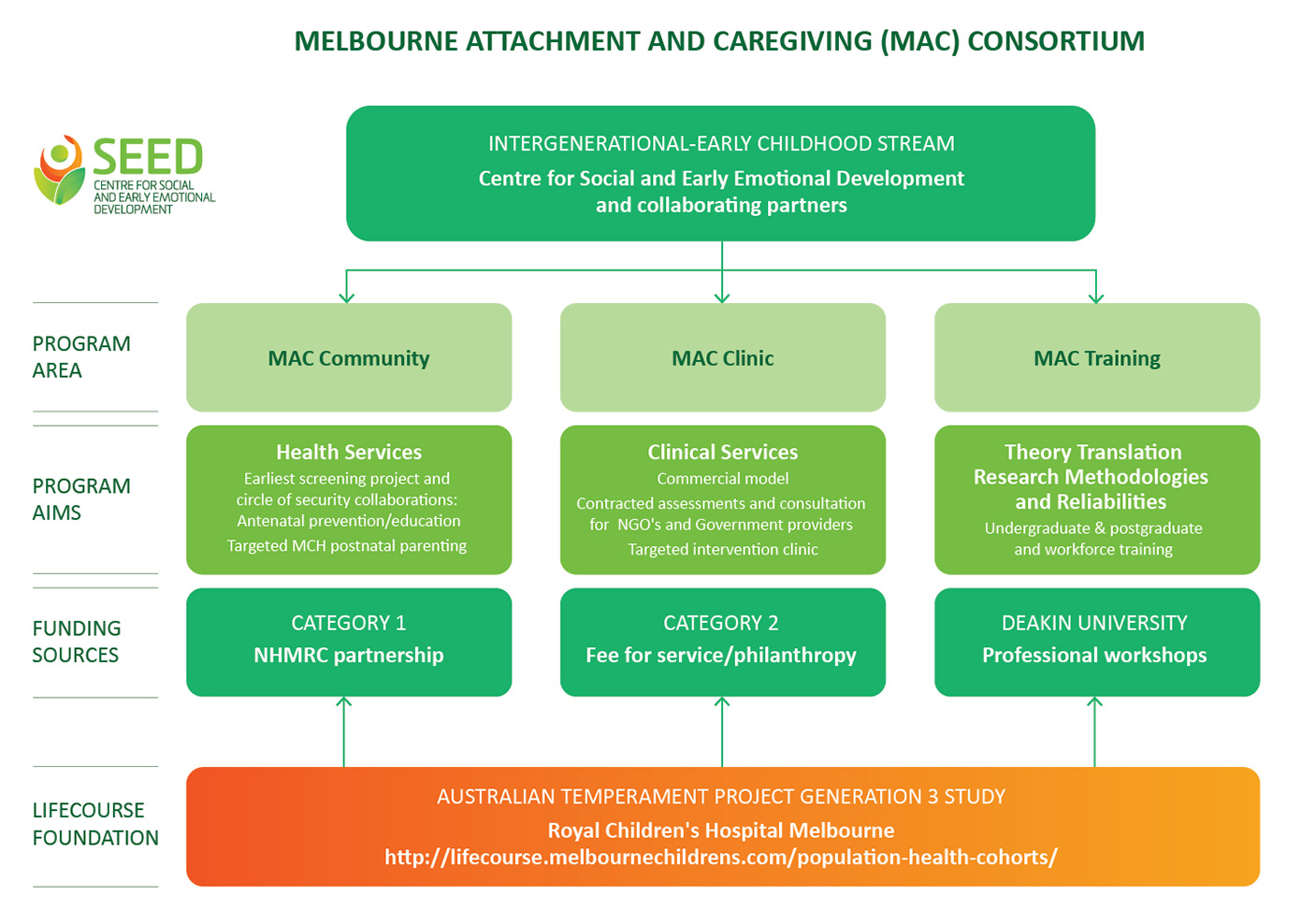 The SoAR Lab focuses on understanding the underlying systems that regulate the way that people interact in their relationships. Drawing on some of the major theories in social psychology and personality, our lab studies relationships across the entire span of adulthood (including the transition to young adulthood). Our laboratory aims to gain insight into the processes that govern the functioning of close relationships and their outcomes. Our research targets a wide variety of contexts which currently include important life events, transitions and emerging social issues that can impact on relationships. We aim to bridge the gap between science and practice by making our research accessible to the academic and therapeutic communities as well as the general public.
The Hush Foundation aims to transform the healthcare experience through use of the arts. It commissions Australian composers and musicians to compose music to reduce stress and anxiety for patients, families and hospital/care staff. Since its merge with The Australian Institute for Patient and Family Centred Care (AIPFCC) in early 2016, the foundation has also worked with actors and playwrights to produce theatre. The performances highlight issues of staff culture, behaviour and communication, patient-centered care, aged care and patient safety.
The Australian Centre on Quality of Life (ACQOL)
ACQOL is a Specialist Research Centre that conducts leading research around quality of life measurement across the life course. ACQOL collaborates with SEED around the development of population indicators of wellbeing from infancy to adulthood. This is part of a larger 'Comprehensive Monitoring and Intervention Project' and builds on the internationally recognised Australian Unity Wellbeing Index, for which an Adolescent Index already exists and adaptations for Early and Middle Childhood are underway.
Comprehensive Monitoring
The population program within this stream is centred around the development and implementation of a new Perinatal Developmental Index and Toddler Developmental Index. This work is part of the larger 'Comprehensive Monitoring and Intervention Project' being undertaken with the Department of Education Victoria (Australian Early Development Census), the Social Research Centre (Australian National University), and the University of British Columbia.
Our aims are to:
define developmentally appropriate indicators of emotional growth at each age and stage

link these to developmentally targeted interventions that address risk and promote wellbeing

implement a comprehensive monitoring and intervention through developmentally integrated (Conception to Adulthood) clinical, educational and public health services.
Perinatal Development Index
The purpose of the Perinatal Development Indicator Project is to identify a definitive set of socio-emotional indicators as they relate to the period spanning pregnancy, child birth and infancy (up to 12 months postpartum). The PDI will be developed within leading Australian longitudinal datasets running through SEED, the Melbourne Children's Campus, and the Australian Research Alliance for Children and Youth.
Toddler Development Index
The purpose of the Toddler Development Index Project is to test a new set of socio-emotional indicators for monitoring early development (up to 18 months) put together by colleagues from the University of British Columbia. The first community implementation of the TDI in Victorian communities is planned for 2017. Further testing of the TDI within Australian longitudinal dataset will also be undertaken across 2017.
Resources
As part of our commitment to bringing SEED research into the lives of families, young people and those working with families and young people we have compiled a list of seminal resources that present and reinforce central messages around promoting emotional health from infancy to adulthood. We have organised resources within SEED research streams for easy access to age appropriate material. Within each age group we have further group resources into books, animations, webtalks, major reports.