Unit Resources

The Resources section is the area where you will find all the learning resources posted by your lecturer which typically includes, unit guides, lecture notes, study guides, readings etc.
---
Access Resources
From your unit site, click on Resources in the navigation bar.
Note: If a specific learning path has been defined for your unit, some resources areas may only be available once you complete prerequisite sections or assignments.
Download & Print Topic
To download all the resources
Click on List of Resources.
Click on Download.
You will be prompt to download the file.
To download a topic
Go to the topic that you wish to download.
Click on Download from the topic's contextual menu.
From the pop-up window, save the zip file and use appropriate software to open the topic.
To print, click Print from the menu of the appropriate software.
Topic Feedback
The following steps describe how to submit feedback about unit resources.
Go to a topic.
Click on Submit feedback for this topic from the topic's contextual menu.
On the Submit Feedback form, rate the quality of a topic from 1 to 5 and leave a comment, if you desire. You can choose to submit your feedback anonymously or include your name.
Click Submit .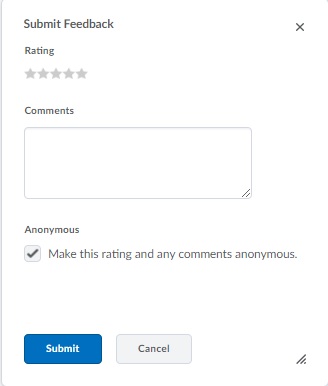 Page custodian: Deakin Learning Futures Last updated: