HDR Summer School Workshops
9:30 - 11:00
Panel Sessions
Panel 1 -Understanding your Deakin Phd – Individual learning plans and building a portfolio of assets - D2.193
Professor Chris Hickey

Panel - tbc
Panel 2 - Publications, how to identify potential articles and how to identify the best journals - D2.194
A/Prof Andrea Gallant
Library staff - tbc
panel - tbc
---
WORKSHOPS
---
11:30am - 1:00pm
Building, shaping, forming, researching with metaphor- D2.193
Dr Lucinda McKnight and Dr Ben Whitburn
A hands on workshop exploring the affordances and limitations of figurative language
Ben Whitburn and Lucinda McKnight are two recent Deakin PhD graduates who thought with metaphor in their doctoral research projects, and found this process both exhilarating and frustrating. Ben teaches in inclusive education, and Lucinda is a professional writer who teaches in education; they bring to this workshop their different perspectives on how metaphor can be useful for consciously initiating creative and cohesive research strategies, and also how it can be insidious in restricting our worldviews.
They will introduce participants to theory underpinning metaphor and provide opportunities to explore this theory in the context of HDR students' own projects, whether in Humanities, Communication, Creative Arts or Education.
How might metaphor assist with inspiring a research design?
How might metaphor invite researcher reflexivity?
What kinds of metaphors have other researchers employed?
What can we learn from the ways in which metaphor inevitably fails?
These questions and others will be considered; participants should come prepared to write, draw and think!
or
Conceptualizing and writing the exegesis: a brief introduction - D2.194
Dr Patrick West
The exegesis has always been with us in different forms and under various names, yet it still puzzles many writers and HDR students. This workshop will provide an introduction to various models of the exegesis, detail the different ways in which the exegesis may be related to the creative product, discuss examiners' expectations of the exegesis, and advise on how to guard against the most common pitfalls of exegesis writing. The exegesis is an exciting and constantly evolving mode of writing and my hope is that participants will come to see how they can work within the tradition of the exegesis while shaping it to suit their own creative and research purposes.
or
Ethics - Good research habits start early! - D2.212
A/Prof Kristin Demetrious, Dr Sam Balaton-Chrimes, Kylie Koulkoudinas
The research journey is an exciting one. This practical workshop is designed to assist new HDR researchers to understand and engage effectively with the ethical approval process in the Faculty of Arts and Education at Deakin University. We will give you the 'who, what, where, when, why and how' of getting your research project off the ground. This overview of the process helps support students to engage with the planning and implementation of their data collection in informed and appropriate ways. We'll help you understand the key ideas underpinning ethical research, as well as providing practical tips to avoid some of the common errors that can be made
or
Engaging your inner artist: Drawing on your research - D2.211
A/Prof Andrea Gallant & Dr Glenn Auld
This worship is designed to engage early, mid and late phase candidates. The aims are to help all candidature to develop clarity and confidence about what their conceptual framework looks like and to articulate how this draws from the theoretical framing (which situated and consolidated the research inquiry/problem into that broader theoretical picture). Participants will draw postcards of their conceptual framing and write a synopsis of the imagery, which will then be discussed. For those who attended at Winter School you will engage in redrawing you existing post cards and a synopsis about the changes in understanding of how the concepts are being engaged with and or new concepts that have emerged. Late phase candidates are encouraged to bring along a two page synopsis of their concluding chapter (if its written and if not the introduction). Late phase drawings will be part of a review process to ensure the conceptual framing is articulated clearly. All materials will be supplied.
4:25pm - 5:30pm The Hypothetical (all summer school participants)
Professor Chris Hickey
---
READING GROUPS
Readings will be sent to all participants via email. If you don't have your reading by 1 February 2016 please contact artsed-research@deakin.edu.au
---
When registering please select your preferred reading group. Only two selections are available for each attendee. If your first two preferences are not available, you will be allocated to your next preference so it is important to select all groups in order of preference.
Group 1
TITLE: Social Science Research Design – Emergent Design & Naturalistic Inquiry
Readings for group 1 are not yet available
Room/space - D2.193
Facilitator: Dr Anthony Ware
Some schools of thought want to see research methodology carefully planned out before commencement of fieldwork, and recommend even drafting your methodology chapter before heading out on fieldwork. The ideas of Emergent Design and Naturalistic Inquiry, however, argue that qualitative research is virtually impossible to define conclusively before fieldwork commences, that the investigator unavoidably has an impact on the research, and that research design cannot be given a priori but must emerge out of the process of inquiry naturalistically. The argument is therefore that the design of a such research cannot be given in advance, but must emerge, develop, unfold. Some, therefore, suggest that qualitative researchers should conduct their literature and interview research concurrently, rather than undertake fieldwork after the literature research is complete, to allow the development of theory from the many pieces of evidence and approach the fieldwork or interviews more open-mindedly. This session will explore this theory of research design.
Group 2
TITLE: The uses and abuses of history (by Margaret Macmillan)
Readings for group 2 not yet available
Room/space - D2.194
Facilitator: Dr Bart Ziino
Everyone has a use for history. History PhD candidates might study it in depth and for particular purposes, but so many of our studies in the humanities and social sciences rely on providing some historical context. It can provide a starting point, or it might explain the broader importance of the investigation. But while history can tell us much about who we are and the world we live in, it is also malleable, contested, and inherently put to political purposes. This reading group will discuss the uses of history in public, and some of the key contests over the past that have occurred in recent years. Intense disputes over the past have erupted all over the world since the late twentieth century: why? Just what is at stake in the debate over history?
Group 3
TITLE: Preempting Biosecurity: Threats, fantasies and futures
Readings for group 3 are not yet available
Room/space D2.211
Facilitator: Dr Petra Brown
Joseph Masco (2014) 'Preempting Biosecurity: Threats, Fantasies and Futures' in Chen & Sharp (eds), Bioinsecurity and Vulnerability, School for Advanced Research Press, Santa Fe, pp. 5-24
In this book chapter, Joseph Masco criticizes the mentality that drives the new biosecurity approach, relying as it does on 'imaginary catastrophes', once considered as part of biological and social life, now reframed in terms of unspecified, existential threats. Masco argues that this threat, while framed in the language of fact and knowledge, does not actually require evidence of danger. Based as it is on imaginary threats and without power to address actual existing threats to human beings, Masco argues that the term 'biosecurity' does have one very useful function precisely in its lack of specificity; it enables stronger forms of military and political control.
Group 4
TITLE: Creative thinking and materiality in research practice
Readings for group 4 are not yet available
Room/space - D2.212
Facilitator: Dr Rea Dennis
I very much enjoyed the shifting(s) in my perspective(s) when I first read Flusser's re-imagining of writing as taking away rather than adding, in his consideration of writing's roots in carving practices. As researchers, digital writing and reading practices often play with our embodied relationship to the creative practices that define our research experience. This reading group seeks to re-imagine research through the actions of our hands... All perspectives welcome.
Group 5
TITLE: Anthro, ethno, philo or story telling?' Whatever you call it, one thing is certain; narrative makes data come to life
Readings for group 5 are not yet available
Room/space - D2.106
Facilitator: Dr Tony Chalkley
This session will look at the role and value of narrative in research, in particular the way 'sedimented' stories, can be employed to help understand the complex and sometimes contradictory things we uncover in our data. Ethnographers use the concept of 'sedimentation' to illustrate how, like sand on a beach, meaning is produced in layers with socially constructed meanings layered over time. Cooper et.al argues that 'The geological metaphor of sedimentation allows us to consider a dialectical rather than a linear view of change. Case studies show how one archetype is layered on the other, rather than representing a distinct transformation where one archetype sweeps away the residues of the other' (Cooper et al. 1996). This will be a 'hands on' activity based reading group that will explore how and why 'stories' are useful for most, and maybe all, researchers!
Group 6
TITLE: Ethnography as a research method in contemporary settings
Readings for group 6 are now available
Room/space - D2.204
Facilitator: Dr Jessica Walton
The reading is an article by Sarah Pink and Jennie Morgan (2013) on short-term ethnography. This discussion group focuses on ethnography as a research method and explores the differences between short-term ethnography and more conventional long-term ethnography. This will be an opportunity for RHD students who are interested in ethnography to reflect on their own research methods in relation to their research question/aims. It will also look 'beyond the PhD' to encourage discussion about how to conduct rigorous qualitative research in the midst of contemporary pressures (e.g., funding limitations, timing constraints) and in the context of multi-disciplinary projects in applied settings.
Reading:Pink, S., & Morgan, J. (2013). Short‐Term Ethnography: Intense Routes to Knowing. Symbolic Interaction, 36(3), 351–361.
Group 7
TITLE: Don't have a charisma bypass over your data: methods of qualitative data analysis
Readings for group 7 are not yet available
Room/space - D2.205
Facilitator: A/Prof Andrea Gallant & Dr Glenn Auld
This reading group gives you a framework for understanding how to go about analysing your qualitative data. There are two articles for this reading group. Sullivan (2011) provides ideas on bureaucratic (guideline following) and charismatic (stylistic) approaches to data analysis. This reading group will explore how researchers use both bureaucratic and charismatic approaches to analyse data. This reflects their methodological knowledge as well as their in depth relationship with the specific data sets in their research. Practical ways to analysis data will be explored in the second paper (Cohen, Manion, & Morrison, 2007). These readings will cater for candidates at all phases of their research. Early career candidates will have a stronger understanding of how to design their research. Mid career candidates will take strategies for qualitative data analysis from this workshop. Late career candidates will have the opportunity to check that their data analysis methods have been articulated clearly so that their validity is apparent to others. All candidates who attend this reading group will make links between their conceptual framework and their data analysis.
Cohen, L., Manion, L., & Morrison, K. (2007). Research methods in education (6th ed.). London ; New York: Routledge.
Sullivan, P. (2011). Qualitative Data Analysis Using a Dialogical Approach. London: SAGE Publications.
Group 8
TITLE: Finding the warrant for your research (where did you leave it?)
Readings for group 8 are not yet available
Room/space - D2.105
Facilitators: Dr Julie Rowlands & Dr Rosalyn Black
In the exciting, creative, complex and often anxious process of writing a thesis, one thing often gets lost: the warrant for doing the research in the first place.
Your warrant introduces your readers to the need and context for your research. It provides an argument for the significance of your research to the wider research community. It describes the research and theoretical tradition in which your own research is located.
However, a warrant does much more than all of this: it gives you the authorisation or permission to contribute to that research tradition and to have a voice within it.
This interactive workshop uses three informal online readings to discuss what a warrant looks like and how it can be developed. We'll also be sharing ideas about our own research and its warrant, so come prepared to chat.
Group 9
TITLE: Self-focussed methodologies: Is it good research or just good therapy?
Readings for group 9 are not yet available
Room/space - D2.104
Facilitator: Dr Peta White
Self-focussed methodologies (such as self-study, autoethonography, autobiography etc.) can be powerful tools for inquiry around practice (teaching, nursing, … anything really). I have found that through self-focussed methodologies I can ask more of myself than I can ask of others. I can push myself to go deeper, reveal more, and develop greater insight. These methodologies are useful to develop your understanding of your self, your practice, and, if framed through critical theory, to bring about change in your practice or the practice of others. As an environmental activist I believe that you can only change yourself, so researching with methodologies that align with this philosophy feels comfortable yet empowering. However, not everyone shares this comfort with self-focussed methodologies. How do you tackle the question - Is it good research or just good therapy? In this reading group we will unpack some methodologies that are self-focussed and explore how they are good research (and maybe good therapy too).
Reading: Samaras, A.P. (2011). Self-study teacher research: Improving your practice through collaborative inquiry. Los Angeles: Sage Publications Inc. - Please read CHAPTER 1
9:30am - 10:20am (all summer school participants)
Title - tba
Prof David Cross
10:20am - 10:30am (all summer school participants)
Faculty 3MT winner presentation - Creating change in informal settlements in Southern Africa
Tim Budge
10:30 -11:00 (all summer school participants)
Presenting Your Research: clear, engaging & memorable
Dr Antonia Pont
Communicating the results, or even work-in-progress, of research and practice is crucial for the scholar, researcher and maker. Conferences, symposia, launches, seminar series and keynotes are all places where confidence in presenting can ensure that the hard work you do reaches an appropriate audience, to have a life beyond your laptop or studio. This short talk, plus Q&A, will cover some of the (non-boring!) basics of presenting in order to help you to approach this aspect of 'being an academic' in a way that motivates you.
Dr Antonia Pont is Senior Lecturer in the School of Communications and Creative Arts. Her research focuses on practice across the creative arts and in daily life — how to think it and say it more precisely. She publishes poetry, short stories and philosophical and critical prose.
---
WORKSHOPS
---
11:10am - 12:40pm
Preparing for colloquium- D2.211
Dr Andrea Gallant and Dr Patrick West
In this workshop session, HDR Coordinators demystify the colloquium or confirmation process for candidates preparing for this milestone in their candidature. In particular, we consider this process through three distinct phases Consider, Compile and Convince!
The Consider phase orients candidates to the purpose of the colloquium and discusses some of the key aspects of this important event in your HDR candidature. The Compile phase introduces students to the key information that needs to be prepared, including the proposal document and highlights some of the resources available to support students in the development of their proposal. The Convince phase discusses strategies to help you prepare for the presentation of your research proposal at the colloquium.
or
Thesis examination - Demystifying the process - D2.193
Professor Jack Reynolds
In this session, HDR students will be talked through key aspects of the examination process, and given some advice regarding 'dos' and 'dont's'
or
The sensory, the sensible and making sense: Practice-led research and the exegetical writing for creative practitioners - D2.194
Dr Jondi Keane
This workshop will cover a range of issues that creative practitioners encounter when designing their PhD projects and approaching the writing of an exegesis.
In the workshop we can discuss example of projects and particular project being undertaken by candidates.
how to articulate and approach the relationship of theory and practice;
how to think about methodology, learning by doing, and ethical know-how
ethics approval and emergent research
how the acquisition of knowledge and contribution to knowledge operate in creative practices.
The spectrum of disciplinary, inter-, multi-, trans- and post-disciplinarity.
We will also leave time to have an open discussion of any concerns that students wish to raise.
or
You don't have to take naked selfies to be a famous researcher (but that might work too): Getting visible online - D2.212
Dr Adam Brown
A practical workshop exploring how you might use various social media outlets to disseminate your research and enhance your reach, reputation, and visibility. The session will involve critically thinking about your online identity, brainstorming what will work for you, and beginning to implement your plan. Having a laptop, tablet, and/or smartphone on the day will be handy. Please watch the following video on 'The Strategic Academic' prior to the workshop: https://www.youtube.com/watch?v=hlz7_UL57Y0
---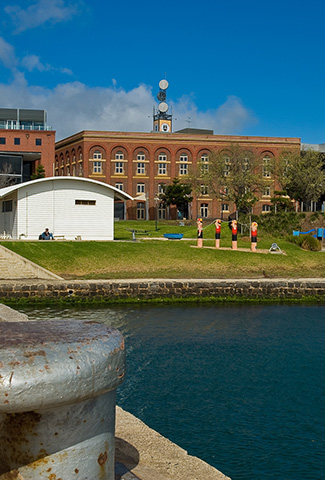 Page custodian: Faculty of Arts & Education Last updated: