Work integrated learning: Student profiles
Liang Vuong
Bachelor of Commerce
Business Internship
Yarra Valley Water
'Just having a degree doesn't really cut the mustard these days. Experience is vital and Deakin's Work Integrated Learning program or internships can help you get the experience that's required to stand out in such a competitive world.'
Ishita Agarwal
Bachelor of Arts/Bachelor of Commerce
Business Internship
Graphic Effects
'It has been terrific to gain real world experience in the area of my choice and I even gained a mentor in my manager. My resume looks great and I couldn't have asked for a more fruitful experience.'
Georgia Wallace
Bachelor of Commerce
Industry Based Learning
CGU Insurance
'It is a practical kind of knowledge that you can't learn in the classroom – putting those skills into a business context.'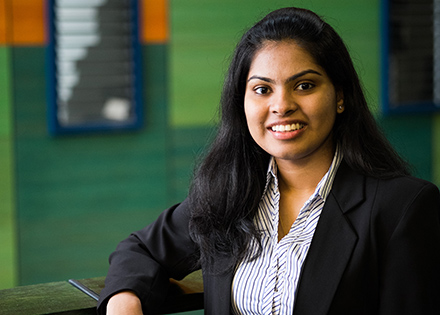 Gowri Gunawardaine
Bachelor of Commerce
Work Based Learning
Not-for-profit organisation
'I am so happy that the solutions I developed are actually being integrated within my workplace.'
Jack Donnelly
Bachelor of Commerce
Business Internship A - L'Oreal Australia
Business Internship B - International Needs Australia
'My first placement was at L'Oreal Australia where I undertook a marketing research project with four other Deakin students. It was great exposure and experience.'
Campbell Jones
Bachelor of Laws/Bachelor of Commerce
Business Internship A - Onemda Disability Resource Centre
Business Internship B – 40K Globe India
'Through my studies I have become a more discerning, pragmatic and resourceful person, which is essential and highly valued in the workforce.'
Katarina Djordjic
Bachelor of Property and Real Estate
Business Internship
Stockdale & Leggo Blackburn
'Through this elective I was able to experience the reality of working in the field which has led to a full- time position in real estate. I'm currently working in the residential field which is providing me with the practical experience.'
---
A Master of Business (Sport Management) at Deakin is provided Sebastiaan Sterel with more than an academic qualification to take to new employers. Participating in Work Integrated Learning as part of his degree, he also gained an invaluable insight into the corporate world.
'I decided to undertake an internship as part of my course because I believed it would provide me with an important insight into the corporate world, set me onto the right path to achieve my aim and gain practical experience.'
Sebastiaan says that his internship at the Melbourne Sports Institute was an interesting experience allowing him to apply obtained knowledge and skills to become an asset for the organisation and also gain new knowledge and skills in the process. Sebastiaan says that in addition, Work Integrated learning
also enhances your resume/CV which further improves job prospects and can help you get to your dream job.
With a Master of Human Resource Management under her belt, Tessa Georgis says it was the completion of a postgraduate internship that landed her the first job in the industry.
'Without a doubt the internship helped me gain my first role in HR. Throughout the interview process for my current role, I was able to talk confidently about the work I had done in the internship and the processes and work groups I had been involved in.
'The internship helped me move from being a student in HR Management to being a practitioner of HR with some newly developed skills to offer,' she says.
Tessa first learnt about Work Integrated Learning when she discovered a number of internship opportunities advertised on Deakin's careers pages. She applied for an organisation that appealed to her personally and was in line with the type of work she wanted to pursue after completing her degree.
'As a result I have been able to identify areas within HR that I would like to specialise in over the next few years.'
Tessa says she would definitely recommend internships to other students as it is a great opportunity to opens doors, stretch their abilities and expand their network.
'It was motivating to be able to use the knowledge I have gained in my Masters in the workplace, giving me confidence in my abilities, and in my career transition.'
---
Completing a degree is a great step towards gaining entry to many professions, but practical experience is what will really make you stand out amongst the pool of applicants.
Vedant Malpani, who will finish his Master of Business Administration (International) and Master of Commerce in June 2015, says that the primary motivation for undertaking an internship was the opportunity to gain valuable practical experience, while working at an Australia-based company.
His desire to participate in Work Integrated Learning was further fuelled when he learned about the high quality of companies offering work experience to Deakin students and he eventually decided to apply for an internship with Décor Stone.
'The only way I can describe my experience is by using the term 'phenomenal'. The team at Décor Stone offered constant support and were welcoming from the outset. I was provided with encouragement from the time I started with the company all the way until I finished my program.'
Vendant explains that Décor Stone involved him in many important decision-making processes and provided the opportunity to implement his own ideas. He also benefited from encountering several challenges that substantially helped him to develop the attitude to face problems and make decisions that work towards achieving the final objective.
'My internship resulted in an imperative reference that provides me goodwill for all my future endeavours – from applying for jobs to establishing new contacts and I would therefore strongly recommend students to pursue an internship with Deakin.'
Overall Vedant summarises that completing the PG Internship gave him the advantage of honing his skills and becoming more proficient in the management of responsibilities as a team member of a company.
Page custodian: Faculty of Business & Law Last updated: