Elements
Elements – claiming or reporting your publications?
Deakin uses Elements to collect research publication data. Elements searches online databases such as PubMed, Scopus, Web of Science, etc to locate your publications back to 2008. If it finds publications matching your name, your Researcher ID and Deakin affiliation, it will notify you.
Researchers are requested to either 'claim' or 'reject 'publications found by Elements. Normally this is done by the first author.
Once claimed, upload the fully published evidence, e.g. copy of published article, chapter or book. Then hit the Deposit button.
Under the Manage Labels section, you will need to select your Department or School for each publication you claim.
The Field of Research (FOR) code may be automatically assigned by Elements, otherwise a 4-digit FOR code should be added by the author, in the Manage Labels section.If Elements doesn't find your publications automatically, you can enter these manually. Please contact Research Publications Reporting (HERDC) for assistance.
Once you have submitted your publication, the Associate Dean (Research) and Faculty administrative staff will review your submission using the HERDC specifications. ERA reportable categories (A1, B1, C1 & E1) will appear in your Staff profile and also be discoverable via DRO once library staff have completed the verification process.
---
Deakin promotes and endorses researchers' use of ORCID IDs. Register for ORCID, and to link your ORCID and Elements profiles.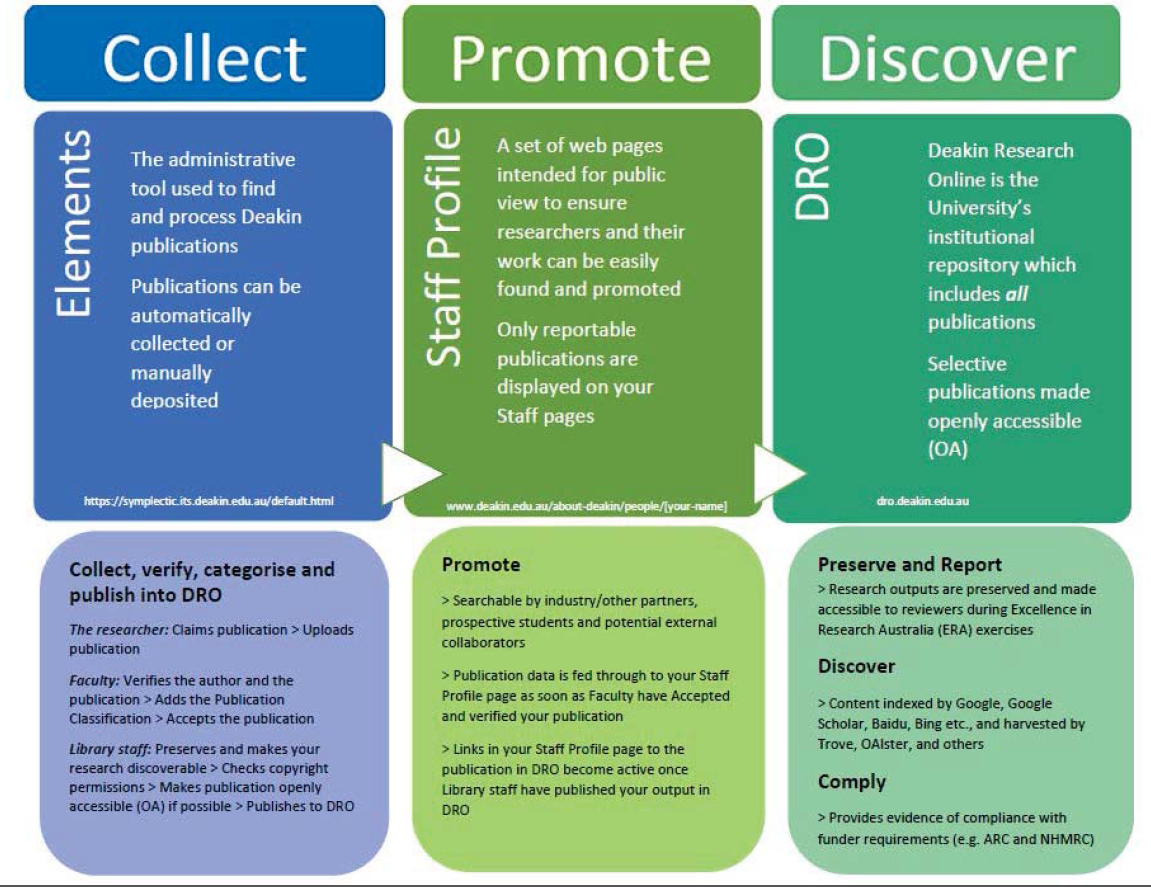 To check the progress of your publications in the workflow,
Go to DeakinSync.
Once logged in select Information and Services,
From the drop down, select Research Support,
And a new page will open. Find the Your Publications tile on this page to view Progress of your Publications.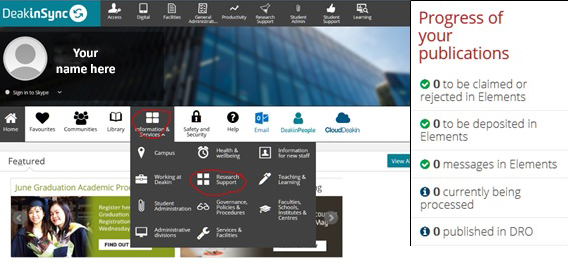 ---
Page custodian: Faculty of Business & Law Last updated: