Assessment
Deakin Law School is committed to maintaining appropriate assessment standards. Thus, great care is taken to ensure that assessment regimes and their administration are fair to all students, rigorous and contain protection against distortion.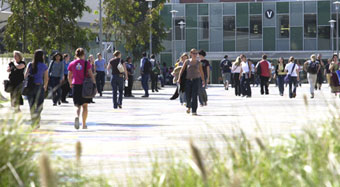 A range of assessments are offered throughout your study of law to ensure you have well rounded legal training.
Students engage in legal reasoning and legal skills, negotiation, mediation, court appearances, legal drafting, statutory interpretation, legal research and writing and much more.
To achieve consistency the School has adopted the following marking guidelines:
The same marking standards are adopted for all campuses and the different modes of teaching.
The examiners will confer to ensure that they have adopted comparable marking standards for all campuses and the different modes of teaching.
You should endeavour to have all your assignments typed. This is because word processing is a useful skill for you to acquire and typed assignments are easier to assess accurately. To assist you in this regard, the University has several computer laboratories at Burwood, Geelong and Warrnambool where you can use word processors for assignment work.
Assignments must be submitted via CloudDeakin, and in hardcopy if requested by the unit team.
Extensions will not normally be granted for assignments. Students who are unable to submit an assignment by the due date, due to exceptional circumstances, may contact the Unit Chair to discuss options. Before contacting the Unit Chair you must obtain appropriate documentation to support your request. You must be able to demonstrate exceptional circumstances. All requests must be made prior to the due date. Special Consideration is only given in serious and exceptional circumstances.
Different unit teams will have different views on whether they will accept a late assignment but impose a penalty. You should carefully check instructions for each assessment task.
The final examination in most law units will be 'open book'. This means that you may take into the examination 'authorised material'. Authorised material normally includes books and notes and normally excludes computers and electronic devices. It is the student's responsibility to find out what material is authorised for an examination, by contacting their lecturer for specific guidelines.
Students are warned that possession of unauthorised material in the examination room will be reported to the Faculty Academic Progress and Discipline Committee for action.
Page custodian: Faculty of Business & Law Last updated: