Food industry
Love food, so do we!
The food industry is an expanding and diversifying multi-billion dollar industry operating in a highly competitive market. It must work with the health sector to respond to the challenges of ever-higher consumer expectations. This offers many career opportunities for Deakin graduates. Possible job roles are listed in the tabs below. Some roles also overlap. Select an opportunity to find out more about it.
You are more likely to be successful in a career in the food industry if you become a well-rounded individual through the combined influences of your attitude, education and experiences. The following list provides some practical advice.
Ensure your study is a priority and get good grades. But while you study..
Think, breathe and feel food. Opportunities will present themselves to you to learn about food or the food industry, try and take as many of these opportunities as possible. These opportunities may not all be successful but this may teach you more about yourself than the successes.

"I suggest any experience in food at all, catering, hospitality, be around food, keep in touch with relevant trends and health updates by reading widely and be prepared to be the one who writes all the HACCP documents and tests the mouldy bread" - Jo Kennedy, Deakin Graduate

Many large food organisations have a Graduate Program or an Internship and these opportunities will expose you to all areas within the food industry including Sales, Finance, HR, etc. so that you gain a comprehensive understanding of the industry.
Surround yourself with knowledgeable and passionate people in the food industry. Find a mentor.
How Deakin can help you get there - Bachelor of Food and Nutrition Sciences
Deakin University offers a practicum unit and short-term volunteer placements within the food industry.
The elective HSN360 gives you the opportunity for an adventure and to gain an international perspective on food and nutrition. Experience global food, health and food services industries including the hospital settings.
Apply for all relevant jobs in the industry, don't wait for the perfect job.
Product development
Are you creative and seek a hands-on role? Then food product development may be for you..
Product development is about improving an existing product or developing new kinds of products. It is an essential function of food manufacturers and those involved with fast moving consumer goods.
A product developer will work closely with manufacturing, sales and marketing and able to provide support and technical drive. Product development involves developing innovative, attractive novel products using technical skills/knowledge in food processing, specialist knowledge of ingredients and cross process interactions, sensory evaluation and knowledge of the Food Standards Australia New Zealand (FSANZ) food regulations.
In addition to a Food Science diploma or degree, typical skills required include:
High level of attention to detail and the ability to identify opportunities
Possess exceptional verbal and written communication skills
Have an enthusiastic approach
Competent computer skills
Be able to work and communicate within a team environment
Have a passion for developmental work
Provide insight into industry trends and opportunities
Product developers can work in major global companies from Fonterra to Nestle or start up their own venture.
A current topic of interest: With the concern about sugar, product development is interested in how to minimise sugars and still make a product appealing to consumers. Allergies and creating functional foods are also important areas.
Deakin Graduate: Sherie Liang
Sherie Liang is a Deakin graduate that has started her own food and beverage business. Her main role is as a Product Developer. Watch the video to understand more about her role. [video 3:30 mins]
Quality assurance
Quality Assurance (QA) is a program for the systematic monitoring and evolution of a food process to ensure standards are being met. The responsibilities of the Quality Assurance Officer include carrying out QA inspection and performing verifications on the finished product for compliance to microbiological/chemical/toxicological standards. A QA officer is responsible for maintaining records and reference samples for testing, monitoring production records and taking corrective and preventative action, undertaking Hazard Analysis Critical Control Point (HACCP) reviews and good manufacturing practice (GMP) auditing of manufacturing, providing quality assurance assistance during production, monitoring product release as well as assisting the QA Manager in general quality assurance tasks.
QA involves the following main areas:
Food safety
Food microbiology
Risk assessment
Food law (food regulatory issues), example tasks are:

Product Compliance – Name, descriptions, additives etc.
Claims Compliance – Nutrition claims, product claims, health claims
Label Compliance – Ingredients list, NIPs, mandatory information
Work with industry organisations - DAA, Nutrition Australia
New Product Development
Regulatory Submissions – FSANZ
Graduate Profile: Mr Ashley James
Career highlight - 'Achieving a position of responsibility within the commercial side of the company.'
The food industry … 'is something I chose to get into after studying food science, although initially, I thought I would be a nutritionist. That really surprised me – I didn't expect the studies to inspire me in a different direction.' I really enjoy the industry because … 'it's so dynamic. Consumer preferences for foods change so we have to be innovative to keep up with trends. It involves a lot of research-based work here and overseas which means regular travel for me to some fascinating places.' My first year after graduating …'was in quality assurance which was very interesting. We took random samples from trucks carrying our products and tested them. That's probably when I applied my Deakin studies and food science skills the most.' Deakin impressed me … 'with its general use of technology – lecturers often presented via video link-up from other campuses. You learn a lot of tools for effective presentation. Every subject requires you at some point to get up in front of your peers and present. These are important skills in the food industry where it's not an individual process, rather a more team-based effort.
Expert: Dr. Mani Iyer
Program Manager, Manufacturing Capability and Innovation, Dairy Australia
Mani has over 35 years' experience working with the dairy food industries in Australia, New Zealand, EU, India, China and the Middle East. He obtained his PhD in 1986 on a project relevant to Ultrafiltration in Cheesemaking. During 1988-90, working as a senior scientist with a private company, he travelled to several countries in Western Europe marketing membrane technologies to dairy companies.
Watch Dr. Mani Iyer from Dairy Australia highlights how education is important for securing career jobs within the dairy industry in his video presentation. [video 1:21 mins]
Food Technologist/Food Scientist
Understand the underlying principles of food. Food technologists/scientist analyse nutritional content of food, discover new food sources, and research ways to make processed foods safe and healthy. Many Food technologists work in product development, applying findings from food science research to develop new or better ways of selecting, preserving, processing, packaging, and distributing food. They may use nanotechnology, problem-solving techniques that work on the atomic scale, to develop sensors that can detect contaminants in food. Other food scientists enforce government regulations and food safety, inspecting food processing areas to ensure that they are sanitary and meet waste management standards.
Throughout the course think about acquiring the following knowledge and skills:
Keeping up with Industry trends
Awareness of Nutrition and Industry Organisations and what they do
Gain experience in the industry so you can provide scenarios and examples to support your skills
Understanding food production/product development
Understanding public health nutrition environment
Ability to critique nutrition science
Food/Nutrition Marketing/Communication skills
Attention to Detail
Be Organised
Sensory evaluation
"There is no love sincerer than the love of food"
Sensory scientists play a role in quality control and product development. They manage and train sensory panels who determine which flavour qualities are present in products. Sensory scientists work closely with marketing, product development and research departments by giving valuable input in how existing products can be optimised and new products can be developed in such a way that it meets the needs of consumers.
Deakin University's Sensory lab with a student taster. Red lighting is used to obscure visual differences between products. Often nose clips are also utilised to control the nasal-olfactory chemical detections so only the perception of taste remains.
Corporations investing in new products often test the sensory properties of their product to determine customer appeal. Tasters can represent consumers of the product or they may be a trained expert. If you are interested or curious about this type of role become a taste tester. Deakin's Centre for Advanced Sensory Science (CASS) has a sensory consumer database which gives you this exposure to research in sensory evaluation and you will be rewarded for your time.
There are also limited positions to work as part the CASS team, working alongside academics in research.
Graduate Profiles: Janelle Kwon
Janelle Kwon graduated from Bachelor of Food Science and Nutrition (Hons) at Deakin in 2008.
She is a Product Development and Sensory Technologist at Sensient Technologies, a manufacturer of flavours and colour for the food industry. This role includes working within the beverage application team to create new beverages for customers using the flavours we manufacture. This can include anything from cookies and cream flavour for flavoured milk to a lemonade flavour for a soft drink. As a sensory technologist, I conduct a variety of sensory tests to compare our flavours to market products or target products.
Read more about her story as a Deakin graduate Janelle Kwon's Graduate Profile (PDF, 12.4KB)
Nutritionist
Interview with Dr. Ramon Hall:
'There are a range of diverse roles for Nutritionists within the Food Industry ranging from regulatory roles to ensure nutritional claims and product labelling are appropriate to a role involving nutritional research, building nutritional evidence to support new product claims. Some roles a Food Industry Nutritionist may undertake:
Formulating/reformulating foods to make them healthier (i.e. lower salt, higher fibre, higher protein)
Supporting Product Development of new products and reformulations
Assisting with the design of products for people with special medical needs
Human and animal research: building scientific evidence to support nutrition claims for new products
Regulatory compliance
Involvement in industry committees to improve nutrition regulations
Following scientific literature and marketing trends and advising the business on trends that could be feasibly supported by nutritional science
Quality Assurance
Advising food safety/toxicology
Advising of allergens
Project Management
Generation and maintenance of intellectual property
Nutrition labelling compliance with Food Standards Australia and New Zealand (FSANZ) and other local and international laws (depending on whether business is Australian based or involved with international trade)
Nutrition strategy
Nutrition policy (writing, lobbying and implementation)
Nutritional education
Advising on consumer trends
Addressing consumer enquiries
Preparing nutritional marketing material for in-house use or for public use
Public speaking related to general nutrition and/or products
Where does a Nutritionist work in the Food Industry?
Small Food Businesses – may need to multi-task and undertake other jobs beyond nutrition; such as food safety, product development and quality assurance covering areas like product labelling compliance and product claims.
Medium Food Businesses: may be more specialised than with small enterprises.
Large Food Business: very specialised
Multi-national organisations: Very specialised
Own Nutritional Food Business
Publication or presentation of human research
Lobbying Government to change food standards (to develop novel nutritionally superior food)
What experience and qualifications do you need to work in the Food Industry as a Nutritionist?
Need to have a broad understanding of the food industry. May start out working in a different role that slowly integrates more and more nutritional tasks. Most food companies (medium+) have at least one nutritionist working there! 10-15 years ago many companies covered some of the nutritional tasks with Food Technologists, but over time companies have come to appreciate the value a trained and highly skilled nutritionist can bring to the business. Most companies are attempting to adopt a health and wellness positioning in the marketplace and nutritionists can assist businesses to transform their products to better, healthier products.
What are the highlights of working in the Food Industry as a Nutritionist?
Launch products that are nutritionally improved or with added health benefit
Successful completion of clinical trials
Collaboration with researchers or other food companies to create new innovative products or processes
Working in a team environment (different professionals coming together) to produce a new product or innovation
Recognition for valuable contribution to successful innovation
Help make the food supply healthier
What advice do you have for students who are interested in working in the Food Industry as a Nutritionist?
Get experience in the food industry even if not in nutrition, before you graduate if possible.
Send your resume to many people/companies.....don't be shy.
Apply for internships. Don't expect to start out as the boss and to drive a Lamborghini....baby steps!
Attend technical meetings to develop a good overview of the food industry and to understand all you can about the food matrix! It is never a simple process to make a particular food healthier without compromising on taste and safety. It may take a period of time to develop an intimate understanding of what factors can potentially be changed in foods.
Network
Join societies
Study subjects that are most relevant to the Food Industry, not just the ones you are most interested in. Biochemistry, physiology, nutrition, food chemistry, product development, processing, microbiology, marketing, project management, business management, immunology and legal subjects.
Find a mentor in the industry. They will be flattered and will be happy to provide advice and direction and may even assist you to find a part-time role.
Dr. Ramon Hall discusses his opportunities working in a large multinational company in the video below. [video 2:28 min]
Self employment
Do you have a passion for food and consider yourself an all-rounder multi-skilled individual? Are you entrepreneurial?
Self-employment may be for you..
Use the skills you learn in your Food and Nutrition Science Degree and your previous knowledge in an industry that you have a passion for and identify a nutrition gap that you can fill, e.g. a dietitian for the music industry, Wendy Jo Peterson, consults to bands and roadies to keep touring musician energised.
Graduate Profile: Mary Lin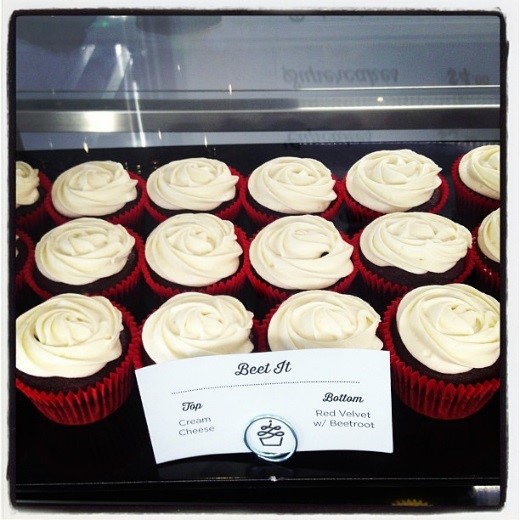 Mary Lin's cupcakes - Mary Lin is the founder of Merry Cupcakes, Fitzroy. Healthy cupcakes, low in saturated fat, sugar, higher in fibre and gluten-free. As a business owner she is responsible for most aspects of the business from recipe development, nutritional analysis, budgeting, purchasing, visual presentation, customer service, marketing and social media, accounting and more.
Her tips to succeed in business include:
Live, eat, sleep, breathe your idea/product
Use anything and everything you've learnt from any experience
Be ready for a lot of hard work
Network & learn from others
Graduate Profile: Sherie Liang
Sherie Liang - Food scientist, nutritionist, founder of Ayomo, a healthy food and lifestyle company, and 2012 Graduate of Deakin University Food Science Nutrition. In charge of product development. Sherie utilised her nutrition knowledge to develop foods and beverages that encourage the increased consumption of fruits and vegetables and are free of added additives and preservatives.
Watch her talk about her aspirations to start her own business ... [video 1:19 mins]
To begin forming networks it is valuable to join associations specialising in nutrition. Some examples include:
Page custodian: Faculty of Health Last updated: