What to wear and regalia
Graduates should wear smart, neat or professional attire as a minimum dress standard. Shorts, jeans, t-shirts, thongs, barefeet or joggers are not considered appropriate.
Academic gowns, hood and trenchers
Deakin University's academic regalia consists of three elements:
a gown
a hood (colour) and
a trencher (cap or mortarboard) or bonnet.
The style of the gown, colour of the hood and type of trencher or bonnet worn depends upon the award you have received. When attending a ceremony, the graduation fee includes the hire of your academic regalia.
Categories of the gown, hood and hood colours and trencher or bonnet for your award are listed below.
Each award has a distinctive hood colour attached to it.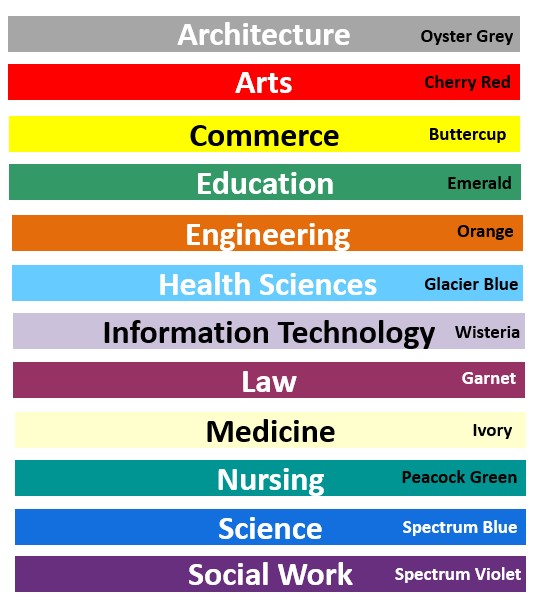 Combined degrees use the colour of one of their awards which is determined by the University depending on the course and ceremony. The colour of the other part of the degree can be worn if requested for photographic purposes after the ceremony.
If you are attending a graduation ceremony you will be provided with the appropriate regalia for your award on the day of your ceremony. You do not need to pre-order your regalia.
If you would like to purchase your own regalia please contact the Graduations Office.
Page custodian: Division of Student Administration Last updated: