Employee Assistance Program
About the Program
The Employee Assistance Program (EAP) is a counselling service available to all Deakin staff. The Program is designed specifically to address and resolve both work related and personal problems adversely affecting work performance.
All staff can access the EAP, which provides confidential, short-term, professional, voluntary and free counselling by qualified external providers/counsellors (social workers or psychologists).
The external provider/counsellors maintain strict confidentiality. No information regarding what is discussed within any counselling session is relayed to any other person or organisation without your consent. Personal details and your participation in the program remain confidential.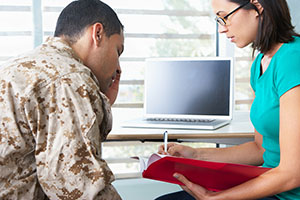 You may refer yourself and make your own appointment, or be referred by a colleague or a supervisor.
You or your supervisor should consider that the problem is work-related or negatively affecting work performance. You just need to present your Deakin staff card at your first appointment.
These can include issues directly related to work such as workplace conflict, difficult working relationships, stress, workplace change and workplace trauma. Personal issues such as depression, grief, chronic anxiety, alcohol and substance abuse can also directly affect workplace performance and behaviour.
These issues can cause work problems such as absenteeism, friction, poor productivity, high staff turnover, reduced performance and low job satisfaction. These problems may affect your health and well-being, ability to cope with the demands of everyday life, your behaviour and work performance. Usually, the longer the problem exists, the more aspects of a person's life are affected by it.
If you have any feedback, issues or concerns with the Employee Assistance Program or providers, these can be raised on a confidential basis with the Manager OHS.
You will be assessed by an EAP external provider of your choice and, if appropriate, offered counselling under the program for one to five individual sessions. Further referrals might also be suggested.
External providers/counsellors
All external counsellors are experienced, registered psychologists and social workers with expertise in a range of issues that adults face including stress related issues, depression, anxiety and managing change (both personally and professionally).
Name
Location
Phone
Sigmund Burzynski and Associates
165 Myers Street
Geelong 3220
5229 5564
Jane Whitmore
155 Myers Street
Geelong 3220
5229 5003

Alison Lewis-Nicholson &
Pam Scott Connections

27 Little Myers Street
Geelong 3220
5221 0358
Dianne Pearce
2/90 Gheringhap Street
Geelong 3220
5277 0094
Edna Osztreicher

Rear of Unit One, 17 Clonard Avenue
Geelong West 3218
Availability: Mon - Thurs, 8am - 8pm

0401 265 796
Name
Location
Phone
Dr Heather Underwood
17 Wellman Street
Box Hill South 3128
0409 411 331
Susan Lefroy
Melbourne CBD
47 Bourke St Melbourne 3000
(near Parliament Station)
0413 186 386
9429 6214
Danny Chabel and Barbara Fraser
200 High Street
Lower Templestowe 3107
8850 0456

Susan Whiteside

Health Hub
1 Welfare Parade
Ashburton 3147
Availability: Tuesday to Friday including Tuesday, Wednesday and Thursday evenings
0411 049 011

CAC Counselling

Suite 2, 990 Toorak Road
Camberwell

1300 786 860
Name
Location
Phone
Susan Lefroy
Melbourne CBD
47 Bourke St Melbourne 3000
(near Parliament Station)
0413 186 386
9429 6214

CAC Counselling

Level 13, 200 Queen St
Melbourne

1300 786 860
Name
Location
Phone
Dr Petra Becker
1 Ardlie Street (cnr Raglan Parade)
Warrnambool 3280
Off street parking can be accessed from Raglan Parade.
5562 2407
Cecilia Carvalho
East Raglan Clinic
366 Raglan Parade
Warrnambool 3280
5562 9466
Managing and leading staff
If you are responsible for managing staff and you want personal support or assistance with interpersonal conflicts, communication processes and meeting the challenge of human resource management, you can obtain support through your HR Services Partner.
For advice and assistance with organisational change, job and organisational design, staff development, career and succession planning or performance management, please contact your HR Services Partner in Human Resources.
Page custodian: Human Resources Division Last updated: