EchoSystem

In Trimester 3, 2018, Deakin is implementing Deakin Video.
Deakin Video combines class capture and streaming with video creation and management in one seamless system.
The Deakin Video suite will be introduced over the next 6 months, beginning with a transition from our current Echo360 class capture system. For more information please visit Deakin Video.
EchoSystem enables students to view and download audio and video of recorded classes and web recordings through CloudDeakin.
---
Note: Please ensure that your browser did not block Flash plugin. Refer to the instructions on how to enable Flash plugin.
Browser
Mozilla Firefox (Deakin's preferred browser)
Latest version of Google Chrome
Internet Edge
Latest version of Safari
Browser plugin
Adobe Flash player (cannot be installed on iOS devices)
Mobile platform
The EchoCenter is supported on the following mobile platforms:
Apple iOS: Supported on iPad and iPhone
Note: Live streaming is only supported on Dolphin.
Google Android: Supported.
Windows Surface Pro: Supported.
Media Player
Quicktime
Windows Media Player
VLC
Podcast subscriber
---
Note: In venues where two separate displays are available, Echo system will capture both screens, you will need to use EchoCentre to view all the content that have been presented. When not viewing the recordings through EchoCentre, you are limit to view only the primary display.
Using EchoCentre
The EchoCentre can be accessed via the Resources area of your CloudDeakin site and is a central place where you can:
access all the audio and visual recordings for your unit
access your bookmarks
access a recording
play (stream) a recording using the EchoPlayer
download a recording
subscribe to an RSS feed
The recording list is automatically updated as recordings become available.
Note: Not all classes are using Echo recordings. Teaching staff may also link directly to the individual Echo recording in unit site. For further queries about the Echo recordings, please contact your Unit Chair. You can find your Unit Chair's contact details on Unit Site Home Page or refer to your Unit Guide. For technical queries, please contact the IT Help.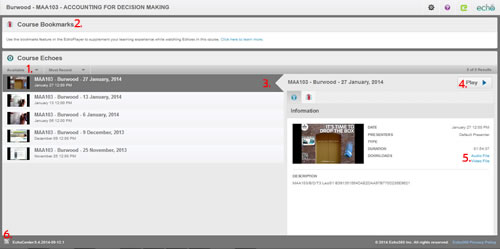 Play a recording
Select from a list of available recordings to view information about the recording and to access options for playback in the right pane.
Choose desired recording from the list and click on Play Echo button towards your right hand side.
In the Echo Player, use the back 30 seconds, rewind, play, pause, fast-forward and set back play rate buttons to control playback and use the volume control to adjust volume.

Use the APPS (Applications) menu on the right-hand side to:

go to a scene
display information about the recording
Note : If there is a transcript for the recording, you will be able to download this under Info .
Get help


Click on the closed captioning button appear at the bottom of the page to refer to closed captions.
Note : Not all recordings have closed captions.
Download a recording
Select from a list of available recordings to view information about the recording and to access options for playback in the right pane.
Click on Audio File to download the MP3 version of the audio or click on Video File to download the M4V version of the video.
Note: Video file is not available for audio-only recordings.
Click on Download media file . You will be prompted to save the file to your computer.
Note: Only the primary recording display will be downloaded.
Subscribe to an RSS feed
Scroll to the bottom of the EchoCentre page.
Hover over the RSS icon and click on Podcast or Vodcast .
The link will open in a new tab. Copy the URL.
Open iTunes (If you do not have a podcast subscriber, download iTunes).
Click on File in the iTunes menu.
Select Subscribe to Podcast .
Paste the URL into the box and select OK .

The most recent podcast will be downloaded.
Click on the Settings button.
Turn ON Subscribed option.
Click Done to save changes.
Page custodian: Deakin Learning Futures Last updated: