DUELI - Deakin's English Language Institute
All Deakin courses have minimum English language requirements and DUELI can help you to reach them.
DUELI is one of Australia's leading providers of English language programs and offers many study options. Our aim is to help you to use English to the best of your ability.
You apply for DUELI courses by completing the DUELI application form and submitting it direct to Deakin. Places at Deakin's English Language Institute fill up fast, so submit your application form as early as possible.
On arrival you will be assessed and placed in an English language course appropriate to your English language skills and study plans.
Note If you meet Deakin's academic entrance criteria but don't meet the English language requirements for your course, you will automatically be eligible for placement at DUELI.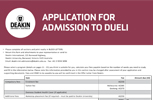 PDF
255 KB
---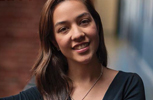 PDF
1.2 MB
Page custodian: Division of Student Administration Last updated: