GOTAFE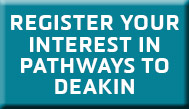 Whether you are just starting out at GOTAFE, or have completed your Diploma / Advanced Diploma, Deakin will provide you with the tools and advice to help you transfer to Deakin when you are ready. Many students complete the first part of their education at GOTAFE, then transfer to Deakin University to complete their degree.
GOTAFE provides pathway students with the opportunity to enter university with credit for prior learning of up to one and a half years towards a Bachelor's degree.
Key benefits of credit for prior learning supported studies at GOTAFE and Deakin University:
Students can work while studying. Deakin offers flexible study options and, after completing a TAFE diploma, students can seek higher paid employment while undertaking part-time or full-time university study.
Pathways contribute to employability. Students will have a highly marketable mix of practical VET/vocational skills and theoretical higher education knowledge after graduating from GOTAFE and Deakin.
Pathways provide staged and supported learning. Students will experience a supported transition from school to tertiary education via TAFE studies, as well as acquire the skills required for tertiary study while undertaking a diploma at GOTAFE.
Contact pathways@deakin.edu.au for further assistance, or call 1300 DEGREE (1300 334 733)
Deakin is a key provider of higher education in the Goulburn Valley region. The University has close relationships with many local industry and employers.
Deakin in Wangaratta – another local pathway to Deakin University
GOTAFE and Deakin University have formed a unique partnership in establishing a Deakin Learning Centre. Through this Learning Centre, Deakin and GOTAFE offer a variety of courses through Deakin University partnerships. This Deakin Learning Centre provides a unique opportunity for people to stay engaged in learning in Wangaratta and build both vocational qualifications and skills together with the capacity to build a learning career with Deakin University.
Deakin offers a wide range of credit for prior learning to GOTAFE graduates and many students complete the first part of the program at GOTAFE, then transfer to Deakin University to complete their degree. Students must meet minimum entry requirements.
To find out what credit you may be eligible for, search our Credit for Prior Learning Database below and learn what credit you can receive from your qualifications.
Deakin welcomes applications for credit from all TAFE courses. Even if your course isn't listed, you can still apply to Deakin and be offered credit for your studies. You can also apply for CPL if you have significant work experience in your chosen area of study.
Page custodian: Marketing Division Last updated: