Enrol for the first time
Enrolling at Deakin is a simple three-step process.
Step 1. Generate your Deakin username and select your units
Before enrolling, you have to activate your Deakin IT/email account and obtain your username and password. You should use this account for all university communications and check it regularly for important emails about your enrolment.
To activate your account:
Go to www.deakin.edu.au/password.
Follow the steps to create your account. You'll need information from your offer email such as your student number and course code.
Make sure you note down your username and password once it is created.
Deakin has expectations of your computer skills and connectivity. Check out the Standards in computing, connectivity and student capability before enrolling.
Handbook - search for unit and course information
Go to the Handbook where you can find general information about studying at Deakin and the unit and course search facility. Enter your course code or name and read the record for your course. You can click on the unit code links to read more about each unit. Note down how many units you have to enrol in per trimester for your course and enrolment status (full time or part time). Trimester 3 isn't compulsory but you can select units if you want.
Consider your course requirements
All courses at Deakin require the completion of a fixed number of credit points.
Ensure you complete any compulsory core units.
Check if you need to choose a major sequence (made up of 'unit sets').
Consider prerequisite units, which must be completed before enrolment in a subsequent unit will be accepted. Rule breaches occur when you don't meet the course or unit rules.
On and off campus students
It is important for all on and off campus students to seek course advice from a faculty course adviser (by phone, email or in person) when planning your enrolment. They can assist with course planning and explain course rules and requirements.
If you are an eligible student, you will need your Tax File Number to request HECS-HELP, FEE-HELP or SA-HELP.
If you want to apply for credit for prior learning, you will need academic transcripts and unit descriptions.
---
Step 2. Enrol in StudentConnect
Enrol in StudentConnect
Login to StudentConnect.
Start the enrolment process by clicking on the 'Enrol in unit/course' link under the 'Enrolment' heading.
When enrolling, you'll be agreeing to the Terms and Conditions of enrolment at Deakin. Read through these carefully and also look through the Rights and Responsibilities page to get a little more explanation.
Complete each enrolment step as outlined in the 'How do I enrol online' guide below.
When you reach 'Unit Selection', enter all of the units you want to study in Trimester 1 and 2. (Trimester 3 is optional.)
Record your receipt number at the end of the process. Your enrolment is invalid if you don't receive one.
You can also download a copy of 'How do I enrol online?'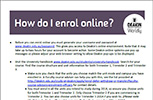 Download
How do I enrol 2014.PDF 820kb
Note Enrol before the closing date or you will lose your place in the course. If you are thinking of deferring, don't enrol yet. Have a read about how to defer, or have a chat to your enrolment officer.
---
Step 3. Complete your administrative tasks
Timetable
If you are studying on campus, you need to set up your timetable for lectures and tutorials through STAR on StudentConnect. You can enter your Trimester 1 preferences from 9am Monday 10 February to 9am Monday 17 February 2014. From 9am Tuesday 18 February 2014 you can view your personalised timetable and change any allocations, if available.
ID Card
Please note you must have already enrolled online before you can get your ID Card. For on-campus students you can have your photo taken and collect your ID at any Deakin Central office or for those off campus send a photo (Jpeg image, similar to passport. Maximum pixel height and width: 1024 x 1024, maximum file size: 256kb) along with a copy of a form of ID you have that includes a photo eg. Passport or Drivers Licence to enquire@deakin.edu.au. Visit the Deakin Card website to find out more about how you can use your ID Card.
Email
Your username, which you set up when you enrolled, is also your Deakin email address. You must check this email address a few times a week. If you have another email account you prefer to use, you can redirect your Deakin email to another account.
Invoices and financial assistance
You can generate an invoice in StudentConnect (see the link under the Fees and Payment heading). Take note of the due date for any tuition fees and the Student Services and Amenities Fee (if applicable). If you haven't paid your fees by the due date, you may lose your place.
Students who are eligible to defer their tuition fees to a HELP loan and have completed the Commonwealth Assistance Form indicating they wish to defer their fees, will have the following status displayed on their invoice.
| Student Status | What does the status mean? |
| --- | --- |
| 201 | You are in a Commonwealth Supported Place - you have chosen to defer your fees to HECS HELP. |
| 230 | You are in a Domestic Fee Paying Place - you have chosen to defer your fees to FEE HELP. |
Computer and Connection requirements
Students are required to have access to a computer and the internet to study with Deakin. There are Information Technology Use policies and procedures which must be complied with, and information on how to meet the minimum recommended computer standards for effective study.
Books and equipment
Buy any books and equipment you need for your course. The Deakin University Student Association (DUSA) runs bookshops on each campus. You can check the textbook requirements for each unit on the bookshop's Student Booklist. Your faculty may also have given you a list of items you'll need (e.g. uniforms for nursing, lab coats).
Travel Concession Card
Once you have enrolled, you can access your 2014 Travel Concession form through StudentConnect. If you're eligible, the pre-populated form will be sent to your Deakin email address. It must be printed in colour when lodging your application.
For information on where you can lodge your application and how the concession card can be used please visit the Public Transport Victoria website.
Parking permit
Buy a parking permit if you need one. You can purchase a general triple trimester or trimester parking permit, student resident permit and orange reserved permit from the cashier's office in Deakin Central.
Orientation and getting started at university
To make a successful start at uni, you need to prepare before you arrive. Visit the Get started website to find out all you need to know about starting at Deakin.
Accommodation
If you need to find accommodation, Deakin has housing officers wanting to assist you. Register for off-campus housing or find out about living on campus.
Important dates
Note down any important dates relevant for you or your course, including the last day to vary your units, census dates, fee due dates and exam dates for the end of trimester.
Exam location (off-campus students)
If you are an off-campus student, you need to check that you're allocated to an off-campus exam location early in the study period.
CAN
A Commonwealth Assistance Notice (CAN) contains information about your enrolment such as your student contribution amounts you have been charged for the units you are enrolled in; any upfront payments you have made; and any HELP assistance you have used for the trimester study period. An electronic CAN (eCAN) will be made available to you within 28 days of census date for the relevant teaching period. CANs at Deakin University are only available online and can be accessed by selecting the Commonwealth Assistance Notice (eCAN) link on StudentConnect.