Arts and entertainment management
Deakin's arts and entertainment management program is a dynamic course of study based on current arts industry practices.
Our courses offer a business education, emphasising management, marketing and finance with a series of industry-specific projects ideal for those working in arts and entertainment management.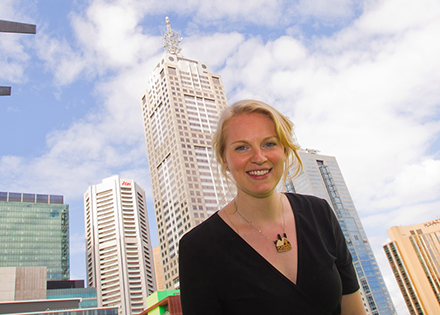 Jayne Lovelock
CEO, Melbourne Fringe
Master of Arts and Entertainment Management 2010
Read Jayne's story.
---
Designed for the cultural industry
The arts and entertainment industry is booming, creating a demand for qualified graduates to manage festivals, mega-events, community events, facilities, publishing houses, music venues, performing arts, visual arts, film and video, radio and television, cultural heritage and museums and communications technology organisations.
Our courses are structured within the framework of a business education, emphasising management, marketing and finance, with a series of industry-specific projects ideal for those working in the cultural industry. These skills are vital for the success of cultural organisations.
Deakin VAPAC Scholarships
The Victorian Association of Performing Arts Centres (VAPAC) provides two scholarships a year to approved VAPAC members to undertake a unit of study in either the Graduate Certificate or the Masters of Entertainment Management. Find out more.
Deakin David McAllister Scholarship
Named in honour of an outstanding alumnus, The Deakin David McAllister Scholarship is offered to high achieving arts and entertainment management students. Find out more.
---
Why study at Deakin?
Industry links
Deakin's Arts and Entertainment Management program has close ties with industry representatives from a variety of areas, including state and federal government, institutes of arts and culture, national and state cultural organisations, facilities and cultural products companies. Our advisory board comprises arts leaders and managers, and key employers from the cultural sector. Read more.
Arts participation incubator
Current students, alumni, practitioners and professionals across the cultural sector have the opportunity to join the Arts Participation Incubator (API), an exciting initiative of the AEM program. The API is an active learning hub offering professional development, networking and active learning opportunities for people working in the arts and cultural sector, around arts participation and audience engagement. Read more.
Creating opportunities for artists
Deakin's Arts and Entertainment program is based on the view that arts managers are vital in creating opportunities for artists and arts organisations to come together with their audiences. The annual Deakin Contemporary Small Sculpture Award is just such an opportunity. Read more.
---
Our courses are flexible
You can study when, where and how you like, and tailor your study around your work and lifestyle commitments. Deakin's trimester system offers three study periods each year, enabling you to commence your course at different times of the year. It also enables you to speed up or slow down your study while still completing your course within the normal time frames.
The George Fairfax Fellowship
and Kenneth Myer Lecture
Every two years an internationally renowned scholar or practitioner is awarded the George Fairfax Fellowship to visit Deakin University, to conduct intellectual master classes and seminars, and to deliver the Kenneth Myer Lecture. The Deakin University George Fairfax Fellowship was initiated with endowment grants from the Sidney Myer Fund, Dame Elisabeth Murdoch, and the Faculty of Business and Law, Deakin University. Read more.
Study abroad
Gain a competitive edge with an international study experience, and earn credit towards your degree. The Faculty of Business and Law offers a number of unique study tours throughout the year to destinations such as India, China and Europe. Or consider one of the many study abroad opportunities offered by Deakin. Find out more.
---