Arts, humanities and social science
The workforce of the 21st century is global. Arts, humanities and social sciences disciplines provide the understanding and cultural sensitivity necessary to be competitive and relevant, both nationally and internationally, and provide a foundation for lifelong, independent learning.
---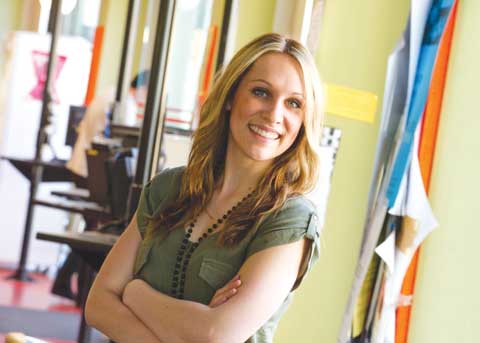 Graduate snapshot
Joy Bullock
Bachelor of Arts (Media and Communication), major sequences in journalism and public relations
Melbourne Burwood Campus
'After researching the course structure, I was thrilled with the extent of the subjects - you gain a well rounded knowledge for the area of study.
'Your tutors and lecturers are more than happy to spend the time with you to ensure you get the marks you deserve, and the opportunities are extensive and readily available to those who wish to take them up.
'One of my second year subjects involved working with an actual organisation and analysing their PR strategies. It gives a great insight into the 'real world' of PR, and not only do you get this experience, but you make valuable contacts for after you've completed your degree.'
---
What can I study?
Deakin offers many programs in arts, humanities and social sciences across disciplines that are vital to making Australia an equitable, humane and innovative society, including:
Anthropology
Applied social research
Australian studies
Criminology
Cultural heritage and museum studies
Research degrees
Social and political thought
Sociology
---
Why study arts, humanities and social sciences at Deakin?
Courses aimed at getting you a career, not just a job
Our courses have been developed in close consultation with industry, and include a blend of theory and practice. Through these professional links we ensure that our courses are relevant, practical and deliver the skills in demand in the workplace, resulting in excellent job and career opportunities for Deakin graduates.
Industry experience
Deakin prepares you for the real world by providing opportunities to gain valuable experience and develop workplace skills. Many Deakin courses are taught by industry professionals and include industry and professional experience placements, internships and overseas study programs.
Prized facilities
Deakin's arts, humanities and social sciences students have access to an outstanding $18.4 million facility, located at the Melbourne Burwood Campus. This facility provides you with the opportunity to work in an array of industry-standard production and performance studios.
Research and teaching excellence
The Faculty of Arts and Education promotes pure and applied research across all its disciplines. You will engage with academic staff whose research continually informs the teaching and learning environment.
Our researchers are internationally renowned for their research and hold key roles in national and international associations and on editorial boards of journals. Our research centres include clusters of researchers in cultural heritage, citizenship and globalisation, literature and text, educational futures and creative arts.
Careers for arts, humanities and social science graduates
Depending on the area of specialisation, graduates can find career opportunities in a broad range of industries including, but not limited to:
Communications and media: advertising, marketing or journalism
International studies: tourism, finance or foreign affairs
Performing and creative arts: television production, theatre or multimedia
Society and politics: criminology, philosophy or politics
---
Arts, humanities and social sciences courses
View all arts, humanities and social sciences courses at Deakin. Courses include but are not limited to:
Undergraduate studies
Associate Degree of Arts, Business and Sciences
Bachelor of Arts
Bachelor of Criminology

Postgraduate studies by research
Master of Arts
Doctor of Philosophy
Postgraduate studies by coursework
Graduate Certificate of Cultural Heritage
Graduate Certificate of Museum Studies
Graduate Diploma of Cultural Heritage
Graduate Diploma of Museum Studies
Master of Applied Social Research
Master of Arts
Master of Cultural Heritage