Biotechnology
Deakin's postgraduate biotechnology program has been introduced in response to the demand for multi-skilled biotechnologists in Australia and overseas. This cutting-edge program provides hands-on experience of the latest techniques in biotechnology research with a focus on emerging frontier biotechnologies including nanotechnology, bio-processing and molecular diagnostics.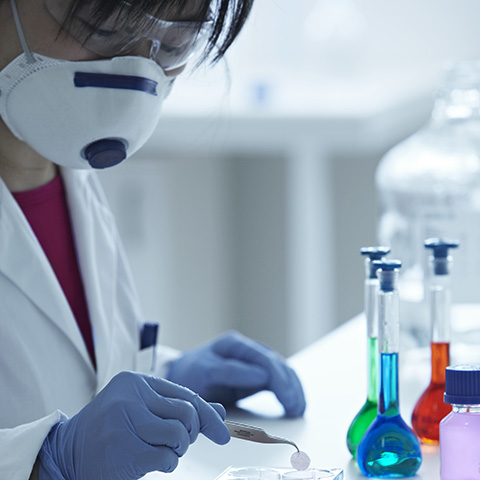 Why study biotechnology at Deakin?
Exciting and emerging industry sector
Biotechnology is one of the fastest growing scientific sectors and industries. This exciting and emerging industry sector covers numerous areas including but not limited to molecular biology, human and animal health, pharmaceuticals environment, agriculture, medical devices and nanotechnology. Deakin's postgraduate biotechnology program has been introduced in response to the demand for multi-skilled biotechnologists in Australia and overseas. The program's distinctive blend of applied science and management-focused units ensures that graduates are highly employable, with the ability to work in industrial, innovative, regulatory, emerging and commercial biotechnology sectors.
Highly sought-after skill set
Our Biotechnology program provides you with a range of skills that are highly sought-after by employers including specialist knowledge, practical skills, the ability to think critically and solve problems, and learn independently whilst also being an effective team member. You will graduate with knowledge, skills and experience in biotechnology that can be applied in both research and commercial environments. These skills are in high demand worldwide and markets are developing rapidly in Australia and the entire Asia-Pacific region.
Our courses have industry focus
Deakin's postgraduate biotechnology program has been developed using input from Australian and global industry leaders. You will benefit from a program that is up-to-date and relevant to the demands of the modern biotechnology industry. The courses have a strong industry focus, giving you the opportunity to undertake a major project in a biotechnology related area. Industry experts provide guest lectures on the latest developments and emerging techniques.
Research
Our teaching and research staff are experts in their respective fields, with broad international links and experiences. Much of Deakin's research in biomedical science is conducted in partnership with government departments, industry and leading international scientists, and is funded by nationally and internationally competitive granting agencies.
Career opportunities
As a graduate, you may work with biopharmaceutical companies, medical devices companies, hospitals, medical institutions, agricultural companies, government departments and institutes, CSIRO, regulatory bodies, stock exchange, business management companies and intellectual property law companies.
State-of-the-art facilities
Our Biotechnology program equips you with a thorough understanding of the very latest techniques and emerging developments in the exciting and innovative area of biotechnology. You will also benefit from state-of-the-art facilities and cutting-edge research at the Geelong Technology Precinct.