Civil engineering
Civil engineers make modern life possible. They are responsible for the design, construction and project management of roads, airports, railways, water supply and sewerage systems, water resources management, buildings and other infrastructures.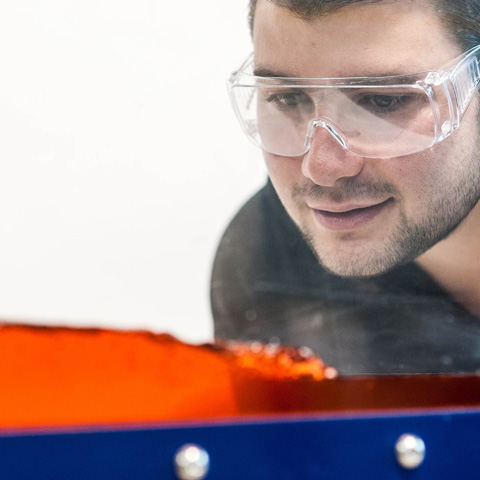 Why study civil engineering at Deakin?
Diverse study areas
Civil engineering at Deakin covers the broad range of civil engineering disciplines including engineering materials, structural engineering, water engineering, geotechnical engineering and transport engineering.
Flexible study options
Deakin gives you the flexibility to fit your studies around your lifestyle, work and other commitments. You can study civil engineering on or off-campus, and even switch between study modes to choose the option that suits you best.
Professional recognition
Deakin's Bachelor of Civil Engineering (Honours) is accredited by Engineers Australia, which gives the degree international recognition, allowing graduates to practise as professional engineers in many countries around the world.
Gain industry experience
As an undergraduate engineering student you will have the opportunity to take part in industry-based work-integrated learning (WIL), internships and final-year industry-based projects. Industry experience is normally undertaken between trimesters and enables you to acquire practical workplace skills and experience whilst developing valuable professional networks.
Career opportunities
Civil engineering graduates can expect to gain employment in design, construction and project management of roads, airports, railways, harbours, water supply and sewerage systems; with water authorities, government bodies, public works departments and in consulting.
Engineering scholarships
Scholarships in the Faculty of Science, Engineering and Built Environment for engineering students include the IGNITED (Initiative for a Girls' Network in Information Technology and Engineering @ Deakin) Scholarship.
CADET
Our forthcoming Centre for Advanced Design in Engineering Training (CADET) will provide some of the best future-focussed engineering facilities in the university sector. It will house virtual and real prototyping facilities allowing creative design solutions to be moved almost seamlessly from imagination to reality and then to manufacture in a single journey. Be it new wind turbines, medical devices, sustainable infrastructure, alternative vehicles or robotic aids, CADET will provide the key elements to 'imagineer the ultimate solution'.
Postgraduate opportunities
Our postgraduate engineering programs with specialisation in civil engineering aim to strengthen, build on and extend your understanding of the engineering principles required for successful engineering careers in Australia and overseas. You will gain technical skills, a positive approach to problem solving and the ability to work as part of a team while focussing on practical experience and a supervised research or industry project that provides you with the advanced project management skills required to tackle complex, industrially-focused problems head on.
Want to study overseas as part of your degree?
Maybe you should apply for the Global Science and Technology Program. The program enables students to achieve their dreams of a truly global education and includes a $3000 scholarship. Click here to find out more about the program, how it works and where our students are studying overseas. You will also find information about how to apply for this amazing opportunity.
Page custodian: Faculty of Science Engineering & Built Environment Last updated: