Economics
Economics provides a theoretical foundation for all areas of business and finance, and a framework to understand policy initiatives on topical issues such as climate change, inequality, financial crises and housing affordability. Economics is offered as a major in Deakin's Bachelor of Commerce and combined courses with Commerce.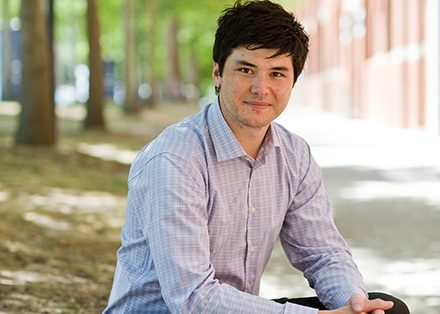 Shaun Chung-Buckland
Bachelor of Commerce 2012
Read Shaun's story.
---
Enhance your business studies with economics
Economics is relevant to the study of a whole range of other disciplines: business, finance, international markets and trade, health, transport, democracy, the environment, as well as social equity and well-being. An understanding of economics provides the theoretical foundation for all areas of business and finance.
An economics major in the Bachelor of Commerce will enhance all aspects of your business studies, helping you to understand why economics is so vital to our society and how it is dependent on human behaviour. You will develop quantitative and analytical skills - attributes that are highly valued by employers and which complement many possible future career paths.
Career opportunities
An economics major sequence provides the background for careers in the private or public sector in roles such as analyst, forecaster, researcher and manager.
An economics major can prepare you for a career as an analyst, forecaster, researcher and manager, in the fields of finance, banking, marketing, public sector, manufacturing, retail trade, agriculture and mining.
---
Commerce at Deakin
Deakin's Bachelor of Commerce is a popular choice, with its solid foundation in business studies and flexibility to choose from more than 20 major sequences. As a Bachelor of Commerce student, you will study a common first year of units, then choose your major sequences as you progress through your degree. This flexible structure enables you to tailor your degree for maximum employability. Valuable work integrated learning opportunities are available, giving you professional work experience in your area of specialisation and enhancing your career prospects.
Why study at Deakin?
International recognition
Deakin's Bachelor of Commerce is internationally recognised and EPAS accredited by the European Foundation for Management Development (EFMD). EPAS is an international quality benchmark for business programs worldwide. Deakin is the only Australian university with EPAS accreditation for its Bachelor of Commerce.
Professional accreditation
Graduates are eligible for membership of the Economics Society of Australia.
Professional recognition by the Australasian Institute of Banking and Finance is also available.
Study abroad
Gain a competitive edge with an international study experience, and earn credit towards your degree.
The Faculty of Business and Law offers a number of unique study tours throughout the year to destinations such as India, Chile, USA, China and Europe. Or consider one of the many study abroad opportunities offered by Deakin. Find out more.
---
Gain experience while you study
Work experience can make all the difference when you graduate and are applying for jobs. You can gain work experience and credit towards your degree with Work Integrated Learning (WIL). The Faculty of Business and Law offers several flexible WIL programs suitable for most students in all disciplines and levels including those from other faculties and universities. These include business internships, community-based volunteering, work-based learning, team-based learning and industry-based learning. Read more.
---
More information
Page custodian: Faculty of Business & Law Last updated: