Computer science
Computer science equips you with the skills to design and develop advanced software and systems, along with the capacity to create and integrate new computing technologies that enhance effective business operation in today's digital age.
What specialisations can I study?
Data analytics is an integral part of decision-making in all areas of society: business, finance, government, medicine, research and beyond. Learn the theory, methodologies and techniques that allow you to interpret datasets and uncover hidden patterns in order to make predictions, draw conclusions, drive successful initiatives and make better decisions, with a particular focus on meaningful analyses in the face of huge amounts of data, where traditional approaches may be impractical.
Effective navigation through the current flood of large-volume, unstructured data requires a new era of computing. Cognitive systems learn and interact with people to extend what either humans or machines could do on their own. IBM Watson is just one example of a cognitive system demonstrating the capacity to answer natural language questions, acquire information, process large amounts of disparate data and learn through repeat interaction. New in 2016, this major sequence provides students with the fundamental knowledge and technical skills required to design and develop new cognitive computing applications and systems.
Robotics and cyber-physical systems have emerged as a major commercial technology sector, combining software and hardware to enable products from autonomous vehicles to fitness trackers and smart homes. Specialists in robotics and cyber-physical computing work alongside hardware engineers and generalist application developers, employing specific skills and knowledge to integrate and control diverse hardware devices; collect, communicate and analyse sensor data streams; and develop and employ novel algorithms that allow these systems to act in response to their environment.
---
Why study computer science at Deakin?
Mastering software development
The course provides you with the knowledge and skills in algorithms, software design, programming languages, data structures and databases, operating systems, networks, distributed systems and software engineering, thus providing you with the tools you need to succeed as a computer science professional.
Practical experience
As a Deakin information technology (IT) student you gain an edge in the job market through the combination of hands-on experience and high-level theoretical training that our courses provide. You learn by doing, rather than just seeing.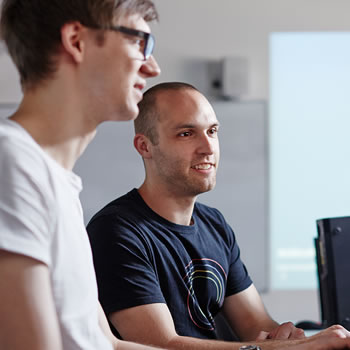 Professional recognition
Professional accreditation by the Australian Computer Society (ACS) means your degree is recognised in industry, resulting in stronger job outcomes. You can also choose to study units at Deakin that lead to Cisco certification, giving you a relevant, practical qualification.
Maintaining relevance
We recognise the importance of being closely aligned with the IT industry, maintaining strong industry links through IT representatives from organisations such as Telstra, ANZ and Computershare. These industry representatives provide us with curriculum advice, keeping our courses current and relevant to industry needs, which is key in a sector where change is constant.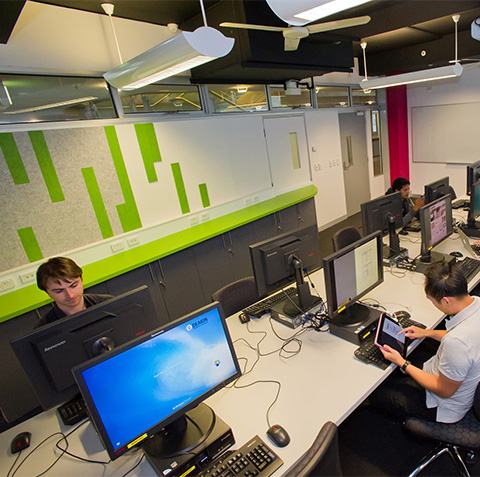 Learn from experts
Our staff conduct high quality research, generating new, fundamental knowledge which assists industry to advance their technologies and to maintain a competitive edge.
Flexible study options
The Bachelor of Computer Science can be studied full-time or part time, on-campus in Melbourne or via cloud learning (off-campus, online), where Deakin embraces the best of new and emerging technologies.
Modern facilities with the latest technology
Deakin continually invests in its facilities and IT programs, ensuring you have access to the latest software in fully equipped computer labs from day one of your course.
Contemporary courses
Undoubtedly, the ICT industry is ever-evolving with constant change in computer languages and technology leading to continuous development and innovation. Computer science at Deakin is designed so that the knowledge, skills and competencies you acquire throughout your degree will have longevity in the workplace despite these rapid changes.
Industry experience
Every IT student at Deakin undertakes an internship, providing you with an opportunity to apply your learning and gain valuable industry experience which is credited towards your degree. An internship enables you to experience a professional work environment, develop professional networks and explore career opportunities before you graduate.
High achieving students also have opportunities to apply for full-time, part-time or short-term industry-based learning placements, with industry-funded scholarships on offer.
Scholarships
Deakin University is committed to attracting more female students to its information technology courses. Designed to 'ignite' female interest in non-traditional areas of study and work, IGNITED Scholarships are awarded to successful applicants commencing an undergraduate degree in information technology.
Deakin University also offers scholarships for academic excellence, access and equity, accommodation and Aboriginal and Torres Strait Islanders, ensuring higher education is accessible for all members of the community.
Experience the world while you study
Study Abroad
Our Study Abroad and Exchange Office offers various programs, including exchange, study abroad, short- term study programs, study tours and international volunteer opportunities.
Global Science and Technology Program
The Global Science and Technology Program at Deakin is designed to add an international experience to your IT degree, supporting you to develop new skills and a broader world view while studying overseas.
Career opportunities
Graduates will be highly sought-after for employment in a range of areas including software development, system analytics, business analytics, software engineering, database development and administration, new technology research, project management, solutions architecture and systems programming, Big Data, data communications and management.
Related study areas
Page custodian: Faculty of Science, Engineering & Built Environment Last updated: