Computer science
Computer Science at Deakin will equip students with the skills to design and develop advanced software and systems, along with the capacity to create and integrate new computing technologies that enhance effective business operation in today's digital age.
Why specialisations can I study?
Data analytics is an integral part of decision making in all sectors of the society. This major sequence provides you with the skills required to be a data analytics professional. You will learn the theory and techniques required to interpret datasets and uncover hidden patterns to make predictions, draw conclusions, drive successful initiatives, and make better decisions. We focus on meaningful analyses in the face of huge amounts of data, where traditional approaches may be impractical.
Cloud Computing is a significant development in the IT industry that is having a major impact on how software solutions are developed, deployed, and delivered over the web. You will undertake a study of the concepts and technologies of cloud computing and acquire the necessary expertise to work effectively in this field, both by exploiting public cloud infrastructure options and through the construction of private cloud infrastructure.
Effective navigation through large volumes of unstructured data requires a new era of computing. Cognitive systems learn and interact with people to extend what either humans or machines could do on their own. IBM Watson is just one example of a cognitive system demonstrating the capacity to answer natural language questions, acquire information, process large amounts of data and learn through repeat interaction. New in 2016, this study area provides you with the opportunity to develop new cognitive computing applications and systems.
---
Why study computer science at Deakin?
Flexible study options
Deakin's Bachelor of Computer Science can be studied on campus or via cloud (online) learning, providing you with the flexibility to study anywhere, at any time and to fit your studies around your lifestyle, work and other commitments.
Master software development
The course provides you with the knowledge and skills in algorithms, software design, programming languages, data structures and databases, operating systems, networks, distributed systems and software engineering, thus providing you with the tools you need to succeed as a computer science professional.
Interactive learning environments
Experiential learning and practical exposure to current and emerging technology is a key feature of Deakin's IT courses. The specialised IT labs are well-equipped with modern facilities and enthusiastic and experienced staff. You will also have access to current state-of-the-art software right from the beginning of the course.
Industry informed teaching
Our courses are regularly reviewed and updated with industry input to ensure the curriculum is up-to-date and reflects workplace needs. Students also have the opportunity to learn from professional
industry guest lecturers, and are encouraged to critique, participate and contribute to industry-linked research and development projects.
Contemporary courses
Undoubtedly, the ICT industry is ever-evolving with constant change in computer languages and technology leading to continuous development and innovation. Computer science at Deakin is designed so that the knowledge, skills and competencies you acquire throughout your degree will have longevity in the workplace despite these rapid changes.
Practical industry experience
As an IT student at Deakin, you will undertake a work placement as part of your course. A work placement will enable you to experience a professional work environment, develop professional networks and explore career opportunities before you graduate. High achieving students will also have opportunities to apply for work-integrated learning placements, which come with an industry-funded scholarship.
Professional recognition
The Bachelor of Computer Science has been designed in accordance with Australian Computer Society (ACS) professional accreditation requirements. The School of Information Technology is currently seeking professional accreditation for the Bachelor of Computer Science with the ACS.
Industry certification
In addition to studying towards a Bachelor of Computer Science, students have the opportunity to undertake industry certification curriculum such as the Cisco Certified Network Associate (CCNA) through Deakin's Cisco Academy.
Want to study overseas as part of your degree?
Maybe you should apply for the Global Science and Technology Program. The program enables students to achieve their dreams of a truly global education and includes a $3000 scholarship. Visit the Global Science and Technology Program website to find out more about the program, how it works and where our students are studying overseas. You will also find information about how to apply for this amazing opportunity.
Scholarships
Deakin University offers scholarships for academic excellence, access and equity, accommodation and Aboriginal and Torres Strait Islanders, ensuring higher education is accessible for all members of the community.
Scholarships for IT students include the IGNITED Scholarship.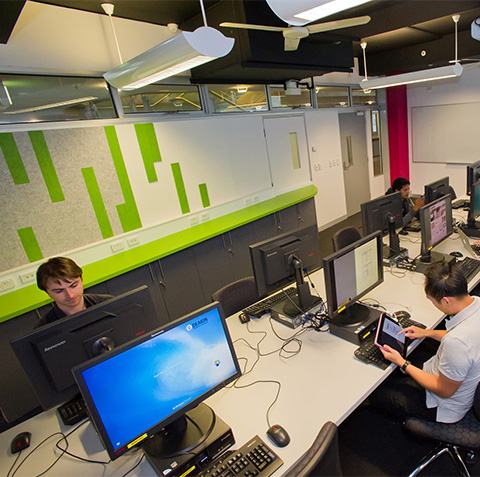 Career opportunities
Graduates will be highly sought-after for employment in a range of areas including software development, system analytics, business analytics, software engineering, database development and administration, new technology research, project management, solutions architecture and systems programming, Big Data, data communications and management.
Page custodian: Faculty of Science, Engineering & Built Environment Last updated: