eBusiness
To be successful in today's business enviroment, organisations must meet the consumer demand for online business interaction. eBusiness improves an organisation's business processes and efficiency, leading to improved customer relations. eBusiness is offered as a major in Deakin's Bachelor of Commerce.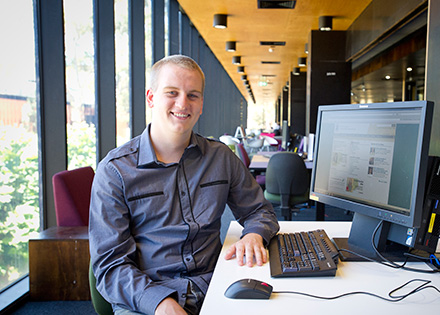 Darcy Clissold
Bachelor of Business Information Systems*/Bachelor of Information Technology, 2012
Read Darcy's story.
*Now Bachelor of Information Systems
---
Combining business and technology
Offered as a Bachelor of Commerce major, eBusiness provides knowledge in business information systems, business intelligence, eBusiness strategies, technology and online business. You will gain an understanding of corporate policy issues, ethics, compliance and the strategic opportunities eBusiness offers organisations.
At postgraduate level, eBusiness and Supply Chain Management are available to study through the Deakin MBA and other postgraduate courses.
Career opportunity
eBusiness professionals assist companies to succeed by improving their electronic capabilities through online transactions and security, data analysis and storage, and digital processes. eBusiness graduates are in high demand with career opportunities as a business consultant, business manager or project manager,marketing manager, information systems specialist including business analyst, website designer and eBusiness consultant.
---
Commerce at Deakin
Deakin's Bachelor of Commerce is a popular choice, with its solid foundation in business studies and flexibility to choose from more than 20 major sequences. As a Bachelor of Commerce student, you will study a common first year of units, then choose your major sequences as you progress through your degree. This flexible structure enables you to tailor your degree for maximum employability. Valuable work integrated learning opportunities are available, giving you professional work experience in your area of specialisation and enhancing your career prospects.
---
Why study at Deakin?
Leading Australia with international recognition
Deakin's Bachelor of Commerce is internationally recognised and EPAS accredited by the European Foundation for Management Development (EFMD). EPAS is an international quality benchmark for business programs worldwide. Deakin is the only Australian university with EPAS accreditation for its Bachelor of Commerce.
Study abroad
Gain a competitive edge with an international study experience, and earn credit towards your degree.
The Faculty of Business and Law offers a number of unique study tours throughout the year to destinations such as India, Chile, USA, China and Europe. Or consider one of the many study abroad opportunities offered by Deakin. Find out more.
Our courses are flexible
You can study when, where and how you like, and tailor your study around your work and lifestyle commitments. Deakin's trimester system offers three study periods each year, enabling you to commence your course at different times of the year. It also enables you to speed up or slow down your study while still completing your course within the normal time frames.
---
Gain experience while you study
Work experience can make all the difference when you graduate and are applying for jobs. You can gain work experience and credit towards your degree with Work Integrated Learning (WIL). The Faculty of Business and Law offers several flexible WIL programs suitable for most students in all disciplines and levels including those from other faculties and universities. These include business internships, community-based volunteering, work-based learning, team-based learning and industry-based learning. Read more.
---
More information
Page custodian: Faculty of Business & Law Last updated: