Engineering science - sports technology
Engineering science brings together studies in engineering, physiology, exercise and sport science with a focus on human performance. The sports technology specialisation provides you with the expertise needed to design and develop sports equipment, instrumentation and other sports-related products.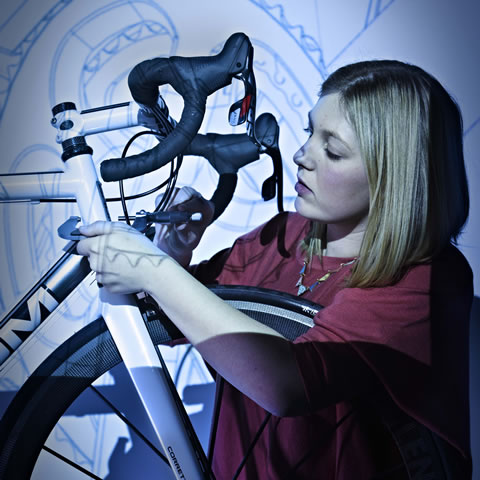 Why study sports technology at Deakin?
Choose your specialisation
This course enables you to choose a major sequence to steer your degree towards your career area of interest. You may choose the 'sport technology – electrical' specialisation which can lead to employment in human performance monitoring and control system design. Alternatively, the 'sport technology – mechanical' specialisation opens up opportunities in sports equipment design and innovation.
Sports technology – electrical
In this major sequence, you will specialise in electrical engineering studies. Tailored to industry needs, this area of study enables you to access state-of-the-art robotics and sensor systems, and through your final-level projects, gain an introduction to the emerging haptics research and sensors area.
Sports technology – mechanical
Product development and innovation are important drivers for the Australian sports industry. To help meet this need, this major sequence brings together knowledge of leading computer-aided engineering technologies and advanced materials.
CADET
Our forthcoming Centre for Advanced Design in Engineering Training (CADET) will provide some of the best future-focussed engineering facilities in the university sector. It will house virtual and real prototyping facilities allowing creative design solutions to be moved almost seamlessly from imagination to reality and then to manufacture in a single journey. Be it new wind turbines, medical devices, sustainable infrastructure, alternative vehicles or robotic aids, CADET will provide the key elements to 'imagineer the ultimate solution'.
Create the solution
The Bachelor of Engineering Science – Sports Technology is designed to develop technology-focused scientists capable of creating engineering solutions to sport-related problems. It is designed for technically-minded students who are not interested in traditional engineering programs.
World class research teams
The Bachelor of Engineering Science – Sports Technology draws heavily on Deakin's world-class research teams in design and advanced materials, and provides the opportunity to work on various research projects in your final year enabling you to gain a solid understanding of product and process modelling and designing for sustainability.
Work-Integrated Learning
You have the opportunity to take part in industry-based learning, internships and a final-year project to help you gain workplace experience and develop valuable professional networks.
Career opportunities
Depending on the major sequence you choose, you may gain employment in a wide range of organisations, such as equipment manufacturers, professional sports associations, research institutions and in occupational health and safety roles.
Global Science and Technology Program
The Global Science and Technology Program aims to recognise, reward and support high-achieving undergraduate students in the Faculty of Science, Engineering and Built Environment who would like to conduct part of their studies overseas to help them develop new skills and a broader world view.