Information technology - undergraduate
Computers and related technologies are a part of everyday life, but relatively few people have the skills to design and build the systems we all rely on. As an IT student at Deakin, you will develop a thorough grounding in the fundamental skills of computing while having the flexibility to choose from a wide range of specialisations according to your interests and career aspirations.
What can I study?
This major sequence provides you with the knowledge and skills to develop modern computer game software. You will learn how to structure and develop solutions to the complex problems faced byprofessional game developers, using industry standard programming languages, libraries and development environments to create a range of games and virtual environments.
Development and increased use of mobile devices and applications are changing the way businesses operate and interact with customers. This major sequence gives you the knowledge to thrive in the fast-growing field and the skills required to develop profitable apps. You will acquire the capacity to build marketable apps; develop apps for business; and plan, develop and manage app projects.
This major sequence equips you with the skills to develop and implement modern computer software on different types of computing platforms, from mobile devices to high performance servers. Graduates will be able to implement complex software, databases and networks in real-world, rapidly changing environments.
Combining both technical IT and creative skills, this major sequence cuts across traditional disciplines, allowing you to develop complementary skills that extend core studies in IT into the design and development of interactive media. You will learn how to design and author multimedia information, create electronic documents, design and manipulate databases and information systems, and develop in-demand interactive media project management skills.
Cloud Computing is a significant development in the IT industry that is having a major impact on how software solutions are developed, deployed, and delivered over the web. You will undertake a study of the concepts and technologies of cloud computing and acquire the necessary expertise to work effectively in this field, both by exploiting public cloud infrastructure options and through the construction of private cloud infrastructure.
Gain practical and theoretical knowledge in this critical aspect of IT, with an emphasis on understanding and assessing the need for IT security in a working environment, knowledge of the security solutions available, as well as understanding the business, ethical and legal implications of risk management. You will learn in a leading-edge study environment and graduate as a qualified IT professional with specialised skills in IT security.
---
Why study undergraduate IT at Deakin?
Supported learning environments
Experiential learning and practical hands-on exposure to current and emerging technology is a key feature of Deakin's IT courses. The specialised IT labs are well-equipped with modern facilities and enthusiastic and experienced staff. You will also have access to current state-of-the-art software right from the beginning of the course.
Flexible study options
Off campus learning (cloud learning) makes it possible to study IT at Deakin anywhere, at any time. You can choose between on campus, off campus, full time or part time study modes with some units even available during Trimester 3. These flexible study options allow you to take advantage and study when, where and how you like, and tailoring your studies around your work and personal commitments.
The best of both worlds
Enjoy the best of both worlds with a Bachelor of Information Systems/Bachelor of Information Technology combined degree, and gain the practical skills in ICT that can lead to a spectrum of highly sought-after graduate roles. This course provides you with a thorough grounding in software development, web design, database, networking and project management.
Practical industry experience
As an IT student at Deakin, you will undertake a work placement as part of your course. A work placement will enable you to experience a professional work environment, develop professional networks and explore career opportunities before you graduate. High achieving students will also have opportunities to apply for work-integrated learning placements, which come with an industry-funded scholarship.
Contemporary, tailor-made courses
Deakin offers contemporary, tailor-made courses designed to get you a career, not just a job. Our courses offer you a range of opportunities for hands-on experience and a firm foundation for theoretical knowledge – a combination of learning 'how' as well as 'why', to equip you with the knowledge, skills and problem-solving capabilities that are highly sought-after by employers.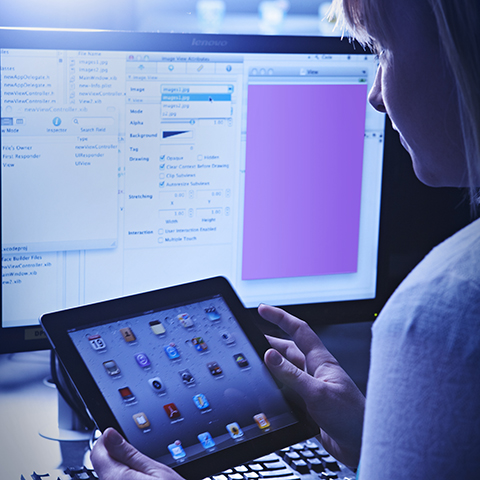 Professional recognition
The Bachelor of Information Technology is professionally accredited with the Australian Computer Society (ACS), providing international recognition and graduate eligibility for membership of the ACS.
Industry certification
In addition to studying towards a Bachelor of Information Technology, students have the opportunity to undertake industry certification curriculum such as the Cisco Certified Network Associate (CCNA) through Deakin's Cisco Academy.
Want to study overseas as part of your degree?
Maybe you should apply for the Global Science and Technology Program. The program enables students to achieve their dreams of a truly global education and includes a $3000 scholarship. Visit the Global Science and Technology Program website to find out more about the program, how it works and where our students are studying overseas. You will also find information about how to apply for this amazing opportunity.
Related study areas
---
Career opportunities?
IT professionals are employed across all industry sectors in Australia. Graduates will be highly sought-after for employment in a range of areas. You could work as a games designer, an iOS or Android developer, a security specialist, a software engineer, a business consultant, a system or business analyst, a network engineer or a 3D graphic designer.
Page custodian: Faculty of Science, Engineering & Built Environment Last updated: