Insurance and risk management
Deakin is a leader in the provision of Insurance and Risk Management education - our courses are highly rated by Australia's insurance industry. Studying insurance and risk management will help you to develop an international perspective on insurance and the competency to operate in a global environment.
---
Professional education for the insurance industry
Deakin's Graduate Certificate of Insurance and Risk Management, developed in close consultation with the Australian and New Zealand Institute of Insurance and Finance (ANZIIF), is the ideal method of furthering your knowledge of insurance and risk management.

The course equips you with the skills necessary to understand the evaluation and acceptance of risks, particularly the principles of underwriting and reinsurance.
Insurance and risk management is offered as a specialisation in the MBA, MBA (International) and Master of Commerce. You can also take a risk management specialisation in the Master of International Finance.
Career opportunities
Career opportunities exist in both the insurance sector (as an underwriter, Insurance broker, or manager) as well as in industry (as part of the risk management team).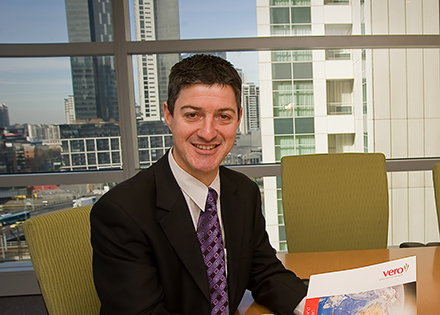 Mark Dal-Corobbo
Key Account Manager
Suncorp Commercial Insurance
Master of Insurance and Risk Management 2010
Read Mark's story.
Why study at Deakin?
Leading Australia with international recognition
Deakin's Bachelor of Commerce and MBA are internationally recognised and EPAS accredited by the European Foundation for Management Development (EFMD). EPAS is an international quality benchmark for business programs worldwide. Deakin is the only Australian university with EPAS accreditation for its Bachelor of Commerce, and one of only three Australian universities with an EPAS accredited MBA.
QS 5-Star rating
The Deakin MBA holds a prestigious QS 5-Star Rating for program strength - delivering an 'attractive and recongised program with a very high graduate employability rate'. Deakin Graduate School of Business, which delivers the MBA, achieved a maximum QS 5-Star Rating for Facilities, Internationalisation and Diversity, Teaching and Student Quality and the Engagement and Program Strength for its MBA.
GMAA 5-Star rating
The Deakin MBA is currently rated 5-Star for standard and value, by the Graduate Management Association of Australia. The GMAA rating is seen as a rigorous and independent assessment of business schools across Australia.

Page custodian: Faculty of Business & Law Last updated: