International studies
Develop a systematic understanding of the international forces shaping government business and community life in the world today.
The Bachelor of International Studies is a course for students seeking an international orientation, with a commitment to a period of study at an overseas university, internship at an international organisation or participation in an in-country language program.
---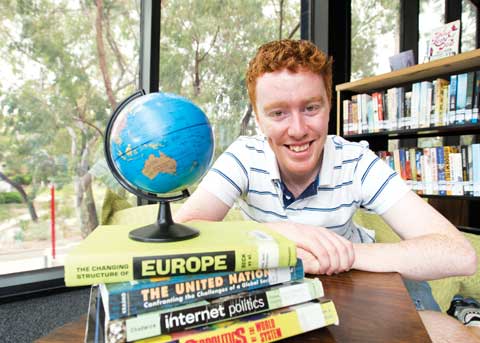 Graduate snapshot
Liam Rodger
Bachelor of International Studies, 2010
Geelong Waurn Ponds Campus
Currently: studying Bachelor of Arts (Honours)
Melbourne Burwood Campus
'I have always had an interest in international relations, politics, and travel. With my courses I have been able to combine all three of my passions.
'The knowledge and understanding of the world around us, coupled with an international experience, makes the Bachelor of International Studies a truly exciting course.
'I was lucky enough to be able to complete an In-Country Language Program in East Java, Indonesia at the end of my first year at Deakin. The ability to study a language whilst also immersed in that language and culture improved my language skills far quicker than just being in an Australian classroom.
'I am hoping to work in the public sector in a role with the Department of Foreign Affairs and Trade. I believe that my course at Deakin has provided me with the knowledge to be able to work effectively in a government position in this field.'
---
What can I study?
Get a genuine international study experience and the opportunity to gain cross-cultural experience by studying in Australia and taking part in study and/or internships in another country. International studies covers a variety of disciplines including:
Indonesian
International Relations
Middle East Studies
Politics & Policy Studies
---
Why study international studies at Deakin?
Industry learning in international studies
International studies has a variety of work placements available to students which give you the opportunity to apply your skills and get a taste for the workplace, including:
international internships
field education
in-country study programs
industry connections.
Teaching and learning excellence
Deakin's lecturers are active within their profession, which means you'll be taught by specialists who know, understand and have connections within industry.
The School of Arts, Humanities and Social Sciences undertakes outstanding research in diverse fields.
---
Careers for international studies graduates
Career opportunities for graduates include but are not limited to:
education
local and federal government agencies
media organisations
public service
tourism organisations
research consultancies
economic consultancies
financial institutions
management consultancies
foreign affairs departments
federal defence agencies
communications industry
community health organisations.
---
Study overseas
Give yourself the competitive edge after graduation. Discover and live in a new country and make friends all around the world. With a Deakin Education Abroad program, your degree can take you where you want to go.
Exchange and Education Abroad programs are available to all students, including international, postgraduate and off-campus students.
---
International Studies courses
View all international studies courses at Deakin. Courses include but are not limited to:
Undergraduate studies
Bachelor of Arts
Bachelor of International Studies
Bachelor of Commerce / Bachelor of International Studies
Diploma of Language
Postgraduate studies by coursework
Graduate Certificate of International Relations
Graduate Diploma of International Relations
Master of Arts (International Relations)
Master of Business Administration (International)
Master of Business Administration (International/Master of International Finance)
Master of International & Community Development
Postgraduate studies by research
Doctor of Philosophy (PhD)
Master of Arts