Mechatronics engineering
Mechatronics engineers integrate electronic devices with mechanical design and information technology. They design mechanical systems such as cameras, anti-lock brakes, engine control units, disk drives, service and surgical robots, and artificial hearts.
Why study mechatronics at Deakin?
New in 2016!
From Trimester 1 2016, students will have the opportunity to commence a Deakin engineering degree at the Melbourne Burwood Campus. Discover the full range of engineering study options available to you as you complete the first year of your engineering degree at Burwood. After completing your first year, you can either transfer to the Geelong Waurn Ponds Campus or to Cloud (online) learning to continue your studies.
Design Based Learning
Project-Oriented Design Based Learning (PODBL) in collaboration with industry is a key feature of our engineering degrees. Beginning in the first trimester of study and continuing throughout your degree, you will have opportunities to work independently and in groups, to actively develop ideas and design products that satisfy industry client needs.
Two is better than one
Mechatronics and robotics are combined in Deakin's Bachelor of Mechatronics Engineering (Honours) degree, providing you with a broad range of skills so that you will be well positioned and highly sought-after in industry for your breadth of knowledge and skills, providing you the opportunity to explore a wider range of careers after graduation.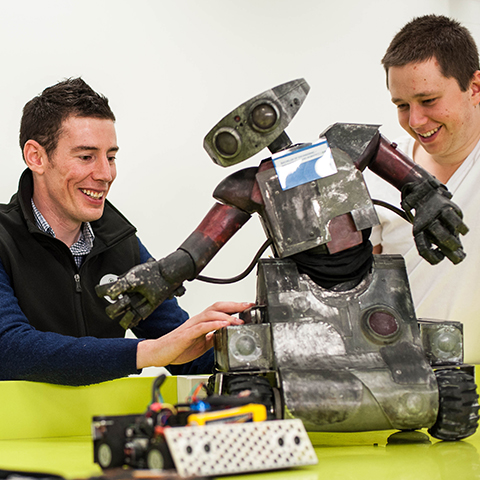 Gain industry experience
As an engineering student you will have the opportunity to take part in industry-based work-integrated learning (WIL), internships and final-year industry-based projects. Industry experience is normally undertaken between trimesters and enables you to acquire practical workplace skills and experience whilst developing valuable professional networks.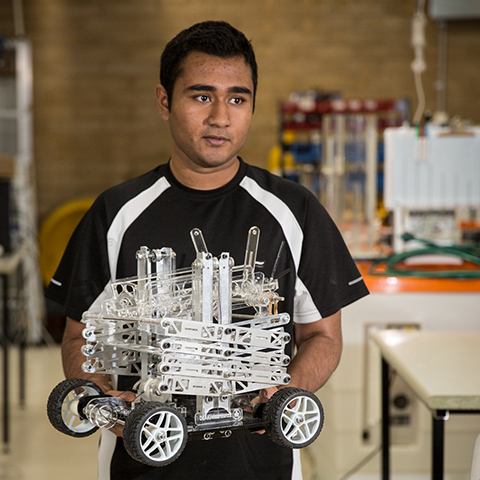 Battle sumo robots
As a Deakin mechatronics engineering student, you will have the opportunity to put your knowledge and skills into action to design and build sumo robots that outsmart, overpower and outmanoeuvre the competition as part of your studies. Watch the video to see some robots in action and to hear first-hand from our students in the course.
Diverse study areas
It offers studies in autonomous systems, robotic system design and industrial communication design. The course is tailored to industry needs and has close links through strong research programs, cutting-edge technology and facilities, and project-based learning.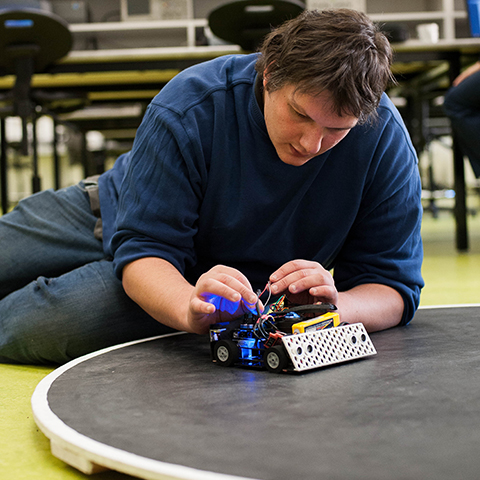 Flexible study options
Deakin gives you the flexibility to fit your studies around your lifestyle, work and other commitments. You can study mechatronics engineering on or off-campus, and even switch between study modes to choose the option that suits you best.
Engineering scholarships
Scholarships in the Faculty of Science, Engineering and Built Environment for engineering students include the IGNITED Scholarship.
Professional recognition
Deakin's Bachelor of Mechatronics Engineering (Honours) is accredited by Engineers Australia, which gives the degree international recognition, allowing graduates to practise as professional engineers in many countries around the world.
Career opportunities
Mechatronics engineering graduates can expect to gain employment in areas including factory control, automation and control system design, as electronic control systems engineers or robotics engineers.
Want to study overseas as part of your degree?
Maybe you should apply for the Global Science and Technology Program. The program enables students to achieve their dreams of a truly global education and includes a $3000 scholarship. Visit the Global Science and Technology Program website to find out more about the program, how it works and where our students are studying overseas. You will also find information about how to apply for this amazing opportunity.
CADET
Centre for Advanced Design in Engineering Training (CADET) provides some of the best future-focussed engineering facilities in the Australian university sector. It houses virtual and real prototyping facilities, allowing creative design solutions to be developed almost seamlessly from imagination to concept and reality in a single journey. Be it new wind turbines, medical devices, sustainable infrastructure, fuel efficient vehicles or robotic aids, CADET provides the key elements to imagineer the ultimate solution.
Robotic design competition
A team of Deakin undergraduate engineering students put their mechatronic design skills to the test at the national final of the 2014 Warman Design and Build Competition in Sydney.
The Warman competition challenges first and second year undergraduate engineering students to design and develop a robotic system to satisfy a defined task.
Find out more in the video.
Page custodian: Faculty of Science, Engineering & Built Environment Last updated: