Media and communication
Media and communication is the world's fastest growing industry and is an area of rapid and continuous technological, political, economic, and social change. Much of the recent explosion in the stock of human knowledge is linked with developments in media and communication.
---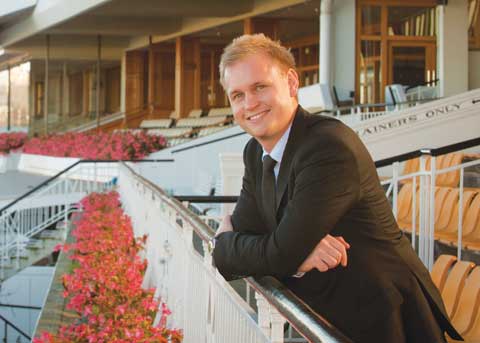 Graduate snapshot
Marcus Williams
Master of Communication (Public Relations), 2009
Melbourne Burwood Campus
Employed: Public Relations Coordinator (Racing), Victorian Racing Club
'My favourite day of the year is Emirates Melbourne Cup Day, when I get to manage all the media commitments of the winning jockey, trainer and owner of the "race that stops a nation".'
A love of working with words lured Marcus Williams to postgraduate studies in communication. Following a career in public relations, Marcus believes that effective communication is essential to the success of any initiative or endeavour 'in business and in life,' he says.
Marcus chose postgraduate studies at Deakin because it offered full-time study and subject offerings that were both focused and varied.
'While I didn't know it at the time, the small classes and extensive teacher interaction provided a much more satisfying experience than my undergraduate studies at another university,' he says.
---
What can I study?
Students address issues and events in the industry at national and international levels through a combination of research, theory, analysis and practice. This area covers a variety of disciplines including:
Advertising
Animation
Children's Literature
Film Studies
Film and Video
Graphic Design
Journalism
Literary Studies
Media and Communication
Photography
Professional Writing
Public Relations
Visual Arts
Visual Communication Design
---
Why study media and communication at Deakin?
Industry learning
Arts has a variety of work placements available to students - internships, field education, in-country study programs and industry connections give you the opportunity to apply your skills and get a taste for the workplace.
---
Career opportunities for media and communication graduates
Career opportunities can be found in a number of industries, including but not limited to:
advertising agencies
film production companies
multimedia businesses
marketing consultancies
television corporations
web development companies
design studios
newspaper and magazine publishers
libraries
marketing consultancies
event management
tourism or hospitality industries
freelancing
---
Overseas study
Give yourself the competitive edge after graduation. Discover and live in a new country and make friends all around the world. The Deakin Education Abroad program is available to all students, including international, postgraduate and off-campus students.
With over 100 partner universities around the world, you could find yourself in the hustle and bustle of cities like Hong Kong or London or perhaps a small university town in Germany or Sweden is more for you.
Whether it is Mexico or Malta, depending on your area of study, there is a suitable overseas university for you.
---
Media and communications courses
View all media and communication courses at Deakin. Courses include but are not limited to:
Undergraduate studies
Bachelor of Arts
Bachelor of Creative Arts
Bachelor of Film and Digital Media
Postgraduate studies by coursework
Graduate Certificate of Children's Literature
Graduate Certificate of Journalism
Graduate Certificate of Literary Studies
Graduate Certificate of Media and Communication
Graduate Certificate of Professional Writing
Graduate Certificate of Public Relations
Graduate Diploma of Children's Literature
Graduate Diploma of Journalism
Graduate Diploma of Literary Studies
Graduate Diploma of Media and Communication
Graduate Diploma of Professional Writing
Graduate Diploma of Public Relations
Master of Applied Social Research
Master of Arts
Master of Communication
Postgraduate studies by research
Doctor of Philosophy
Master of Arts