Mobile and apps development
Mobile and apps development at Deakin gives you the knowledge and skills to design and develop apps on modern mobile platforms, giving you the knowledge to help you thrive in this fast-growing field. The course covers broad aspects of mobile apps design and development – from frontend mobile devices all the way to the backend systems that support mobile apps.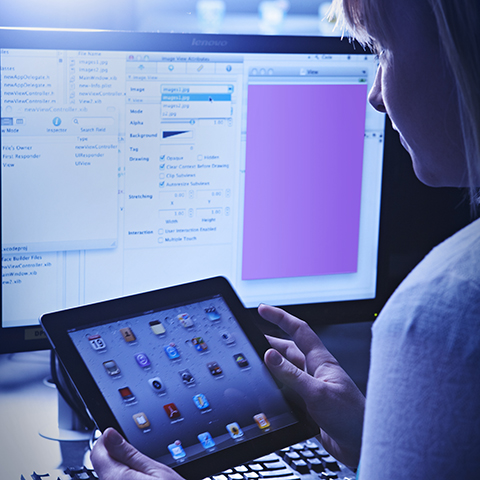 Why study at Deakin?
Changing business needs
With the increase in the use of broadband and mobile devices, industries of all types are developing apps to satisfy their customers. Developments in mobile devices are also shaping and changing the way businesses and their employees work. These changes to customer-to-customer, business-to-customer and business-to-business needs are driving the demand for people with the necessary skills to work in the mobile apps field.
Diverse content
This course covers key mobile apps technologies from two major platforms: Android and iOS (Apple's mobile operating system). In addition to technology-specific skills, you will also learn cross-platform development skills through the latest HTML5, backend cloud computing services (e.g. maps) and frontend JavaScript frameworks, providing you with the diverse range of skills that employers are looking for.
Adaptable and versatile graduates
Whilst acquiring specialised skills in mobile apps design and development, you will also develop a solid foundation in fundamental IT skills as well as generic professional skills such as writing, communication and ethical skills, which are highly sought-after by industry employers and enable you to be versatile and adapt to the evolving requirements of the job market.
Flexible learning
Deakin's Bachelor of Information Technology (Mobile and Apps Development) can be studied on or off campus, providing you with the flexibility to study anywhere, at anytime and to fit your studies around your lifestyle, work and other commitments.
Supported, experiential learning environments
Small class sizes and accessible teaching staff help you get the best out of your university education and offer a friendly and supportive learning environment. You will also have access to well-equipped computer laboratories and numerous opportunities for hands-on experiential learning.
Scholarships
Scholarships in the Faculty of Science, Engineering and Built Environment for IT students include the IGNITED (Initiative for a Girls' Network in Information Technology and Engineering @ Deakin) Scholarship.
Work-Integrated Learning
The Work-Integrated Learning Program gives you the opportunity to put theory into practice by completing an internship or paid industry-based learning placement while gaining credit towards your degree. Many students take up industry placements with leading information technology companies to gain experience in the workplace and generate contacts in the industry.
Career opportunities
From app designer or app consultant to software developer, as a graduate of this course, you may find career opportunities in roles such as iOS developer, iPhone application developer, Android developer, iOS web developer, mobile developer, mobile applications architect, mobile deployment officers and mobile applications programmer.
Strong industry links
We maintain strong industry links through joint research and education programs, so our students have the opportunity to be involved in industry projects and work experience. Our connection to industry leading organisations including IBM, Telstra, Microsoft, ANZ and Computershare ensure our courses have industry input and our curriculum remains relevant to changing workplace needs.
Global Science and Technology Program
The Global Science and Technology Program aims to recognise, reward and support high-achieving undergraduate students in the Faculty of Science, Engineering and Built Environment who would like to conduct part of their studies overseas to help them develop new skills and a broader world view.