Optometry
Deakin offers Australia's first accelerated optometry qualification. Offered as two sequential degrees, Deakin's optometry program makes it possible for students to obtain a professional optometry qualification in just three-and-a-half years of full-time study.
---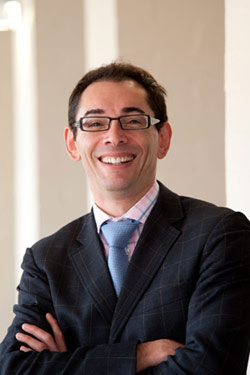 Welcome to Optometry

Professor Harrison S. Weisenger
Foundation Director of Optometry Studies
'Delivered from the School of Medicine, the Deakin Optometry program is the nation's first accelerated combined-degree optometry qualification.
'This brand new course offering makes use of the Deakin's trimester sequence so that the Bachelor of Vision Science, Master of Optometry can be completed in a minimum of three-and-a-third years by high school-leavers or in just two-and-a-third years by those with credit for prior learning.
'The course will operate out of the purpose-built, state-of-the-art $53M Regional and Community Health Hub (REACH) building, adjacent to the Medical School at our Geelong Waurn Ponds Campus.'
---
What can I study?
Optometry at Deakin provides you with a comprehensive understanding of the practise of optometry, with strong foundations in science, inter-professional health practice, commercial awareness and practice management, so that graduates are well equipped for a variety of employment opportunities.
The course has an emphasis on patient-centred, Problem-Based Learning approaches that enable you to develop the knowledge and practical skills to confidently practise as a professional optometrist.
The program is offered as two sequential degrees:
Bachelor of Vision Science
Master of Optometry
---
Why study optometry at Deakin?
Purpose-built facilities
Our purpose-built REACH facility will be equipped with case-based-learning tutorial rooms, large state-of-the-art multi-purpose clinical skills laboratory, a fully-fitted optometry practice for simulation, examination and research, and a 200-seat lecture theatre designed to enable Team-Based Learning.
Industry-based learning
Clinical placements are an integral part of an optometry degree. You will undertake a variety of short-term industry placements and spend the final six months of the masters degree as a 'student resident' in a range of clinical optometric and medical settings.
These extensive clinical rotations will enable you to consolidate your knowledge and skills in supported environments under the supervision of qualified optometrists.
Fast-tracked career entry
By taking advantage of Deakin's trimester system, Deakin optometry students are able to fast-track entry into this exciting profession by gaining a professional optometry qualification in just three-and-a-half years of full-time study, compared with up to seven years at other tertiary institutions.
Professional accreditation
Subject to accreditation, graduates will be eligible to apply for registration with the Australian Health Practitioner Regulation Agency (AHPRA), and as Medicare service providers.
Research and teaching excellence
You will learn from lecturers with specialist skills and extensive international experience in the optometry and eye care field. The course has been developed in collaboration with highly experienced academics who have contributed significantly to research and teaching of optometry.
---
Career opportunities for optometry graduates
The optometry profession is an area of workforce shortage. Demand for optometrists is high and expected to increase as a result of our ageing population.
Job opportunities are strong and career outcomes are excellent, particularly in rural and regional areas. Deakin's Bachelor of Vision Science and Master of Optometry has been designed specifically to help alleviate national workforce shortages.