Project management
Project management is a growing, dynamic profession that involves planning, coordinating, costing and evaluating projects of all sizes, as well as managing the people and risks involved.
In a globalised economy project management is central to develop and deliver new products, services and infrastructure as well as implement new techniques and processes to facilitate change.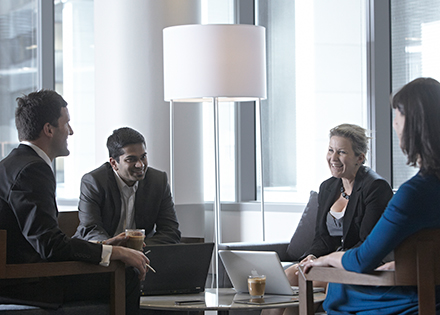 ---
Project manage your career
Educational requirements for project managers vary greatly according to the type of projects they manage, however trends indicate that formal training is fast becoming a selection criteria essential. Project management studies at Deakin are based on key project management methodologies to provide a holistic viewpoint with the aim to deliver generic project management skills that can be applied across most sectors and industries.
The purpose of the project management major is to improve business and project management competencies, to provide students with professional development opportunities as project management practitioners, and to enhance the prospect for continued advancement in the chosen industry or sector.
Professional recognition
Australian Institute of Project Management (AIPM) is the professional accreditation body in Australia. Students are able to explore affiliate membership with the onus on the requirement to continue to gain experience to move to a full membership. Membership requires the requisite level of experience and continuous learning/certifications/professional development, post the degree and five years' work experience to be able to attain an associate or full membership.

Another option is the global body, Project Management Institute (PMI) of which there is a Melbourne Chapter) offers student memberships. Student membership is offered, however, again the onus to continue gaining experience to next level and further certifications are students obligations after graduation.
---
Gain experience while you study
Work experience can make all the difference when you graduate and are applying for jobs. You can gain work experience and credit towards your degree with Work Integrated Learning (WIL). The Faculty of Business and Law offers several flexible WIL programs suitable for most students in all disciplines and levels including those from other faculties and universities. These include business internships, community-based volunteering, work-based learning, team-based learning and industry-based learning. Read more.
Why study at Deakin?
Career opportunities
In general, the field of project management is a growing career option with new positions being created with each new large development or project. A wide range of industries use project managers to for new product launches to restructuring, developments, construction and more. Roles include:
Project Coordinator

Project Scheduler

Assistant Project Manager

Project Manager

Senior Project Manager
Work Integrated Learning.
The Faculty of Business and Law's Work Integrated Learning program gives you the opportunity to enhance your job prospects with real world experience and while gaining credit towards your degree.
Work Integrated Learning covers business internships, community-based volunteering, work-based learning, team-based learning, industry-based learning and international study opportunities. Find out more.
Study abroad
Gain a competitive edge with an international study experience, and earn credit towards your degree.
The Faculty of Business and Law offers a number of unique study tours throughout the year to destinations such as India, Chile, USA, China and Europe. Or consider one of the many study abroad opportunities offered by Deakin. Find out more
---
More information
Page custodian: Faculty of Business & Law Last updated: