If your application is successful, you will be sent a Letter of Offer. There are two types of Letter of Offer:
Conditional Offer – you must fulfil the conditions stated in your offer letter (e.g. completing an English language course, submitting original documents).
Unconditional Offer – there are no conditions to your acceptance.
The tuition fees stated on your offer letter normally include your course tuition fees, Overseas Student Health Cover and non-refundable deposit component (if applicable). Your offer letter will contain detailed instructions as to how you can accept your offer. You may then pay your fees, complete and submit the Offer Acceptance and Payment of Fees form.
If you have any questions about how to accept your offer, please contact us directly at deakin-int-admissions@deakin.edu.au.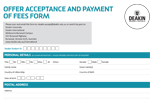 Offer Acceptance and Payment of fees form
PDF
365 KB
How to accept your offer
Please visit the accepting your offer and studying in Australia page to find out more about acceptance procedure, conditions of entry into Australia, employment and protection of your rights as an international student.
Payment of fees
You will need to submit all documents, forms and pay your fees to Deakin International prior to the enrollment and Orientation dates.
Online payment
Deakin's preferred method of receiving fee payments from students overseas is via credit card or online payment.
Other payment methods
You can also pay your fees by bank draft/cheque or in person:
International student payment delay
If not paying in-person then you should allow up to 5 working days for payment to reach Deakin and be reflected in your invoice on StudentConnect. If you've made a telegraphic transfer it may take up to 2 weeks.
If, after this time, your invoice still doesn't indicate your fees have been paid contact Deakin Central for assistance.
Fee, online payment and refund FAQs
Easy payment options for international students
Watch the video below for a step-by-step guide to paying your tuition fees online.