DUELI study tours
DUELI can develop special English group and study tour programs tailored to meet the needs of your university, college or business. Our successful study tours include language and culture programs, while others draw heavily on the expertise of Deakin University and its strong community links.
Programs are supported by our excellent English classes with industry visits and cultural excursions. We can design study tours to complement almost any interest area. For example, programs can be developed for groups interested in English and tourism, English for TESOL, English for business or specific programs where students are integrated into regular DUELI classes with other international students.
Please view the sample four-week English and activities study program.
Note: Study tours are not available as a principle course for student visa holders.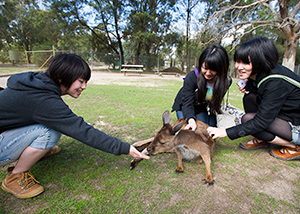 More information
For more information about tailoring a program to meet your needs, please contact the DUELI Study Tour Coordinator:
Page custodian: Deakin International Last updated: