Homestay accommodation
The following accommodation options are available to international students:
Most students studying at DUELI stay in homestay accommodation, which is accessible by public transport. Homestay accommodation provides students with a unique opportunity to experience firsthand the Australian way of life while making new friends and learning English in a safe and caring environment.
Some of the main features of homestay include:
fully-furnished room
breakfast, lunch and dinner provided
laundry and cleaning facilities
gas and electricity.
For more information, please read the homestay information document. To apply for homestay, please download the relevant form and follow the instructions provided.
The price for homestay accommodation changes from year to year and varies according to the arrangements you make with your homestay hosts. In general, homestay accommodation costs A$265 per week, paid directly to the homestay host. There is also a homestay placement fee of A$230, which must be paid to Deakin International together with your tuition fees before your arrival.
Living in a homestay is a valuable experience for both you and your homestay hosts. Assistance with finding a suitable homestay is provided by Deakin University.
Accommodation is available in student residences at the:
Each resident is housed in single room accommodation and has phone and computer access. Bedrooms are furnished, heated and carpeted. There are shared bathrooms, kitchens, laundry and recreational areas. The residences have a common room with meeting rooms, kitchen, television area and a large open space for social events.
The cost of on-campus accommodation varies on each campus depending on the type of accommodation and services provided. Please note on-campus accommodation is subject to availability and length of enrolment at DUELI and Deakin.
If you study at the Geelong Waterfront Campus, you might consider applying for accommodation on the Geelong Waurn Ponds Campus. There is a Deakin shuttle bus, in addition to public buses, that takes students between the two campuses. If you study at the Melbourne Burwood Campus, you may apply for a room in the new 400-room residence at the Melbourne Burwood Campus.
For more information, visit the on-campus student residences webpage.
You can find your own accommodation before or upon arrival. Many students choose to rent flats, apartments or houses with other students. Deakin's Division of Student Life can help you find off-campus accommodation. Deakin can also assist you to find temporary accommodation until a permanent place is found.
For details on off-campus accommodation and costs, visit the off campus housing service page.
If you need further information, please contact us.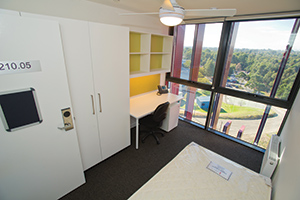 Page custodian: Deakin International Last updated: