Deakin students participate in volunteering program in Thailand
Marine Biology students participate in the New Heaven Conservation Program on Koh Tao, Thailand.
Warrnambool Marine Biology students Dominic and Jordan recently participated in the New Heaven Reef Conservation Program on Koh Tao, Thailand. The volunteering program, run in conjunction with CISaustralia, allows students to play an active role in protecting the precious coral reefs within the Koh Tao national park. It is one of the many placements programs offered through the Global Environmental Placement unit, which requires students to locate a course-related international organisation in which they can satisfactorily complete a placement.
The course is conceived to provide students with the opportunity to solve authentic environmental problems or address real issues faced by organisations operating in the international environmental sphere. Dominic and Jordan enthusiastically agree that the experience was a life-changing one, and combined exposure to a different and intriguing culture, outstanding activities and the great feeling of actively protecting the environment. 'I had an incredible time participating in the program. Having the opportunity to actively contribute to the marine environment using modern restoration techniques was fascinating as a marine biology student and an experience that I will never forget. In addition, I got to meet lots of like minded people and made new friends from around the world.' Dominic says. When asked what the most exciting activity was, Jordan has no doubts: 'Doing the first deep dive in the advanced Scuba class. At 30-meter deep, while doing some activities, a school of large Barracuda formed a circle around us. Amazing!'
Both students highly recommend the program and hope other Deakin students will want to play an active role in protecting the environment: 'You will not regret it. Amazing marine life, amazing people, amazing work!'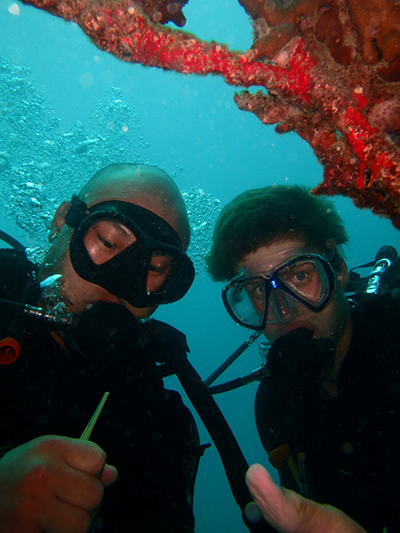 Page custodian: Deakin International Last updated: