International Study Program 2015
The International Study Program (ISP) offers a fantastic opportunity to visit some of the world's most influential financial institutions, while exploring the Middle East, UK and Europe. It combines traditional study with experiential learning and will run for three weeks between January and February 2015 (Trimester 3 2014).
The ISP is a condensed trimester of study at the Melbourne Burwood campus during November and December, followed by approximately three weeks of international travel between January 18 and February 7 2015.
Students will visit the following cities and institutions*:
*This itinerary is subject to change. A revised itinerary, including further detail regarding the timing of activities will be made available closer to your departure date.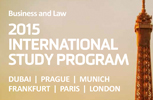 PDF
305 KB
Page custodian: Deakin International Last updated: